Am I Eligible for a Scholarship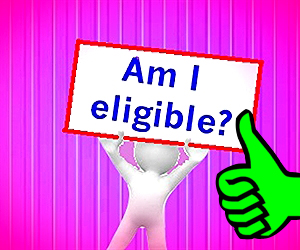 Whenever, you are about to apply for any scholarship make sure to ask two questions from yourself:
Whether you are qualified enough to apply for any particular scholarship?
Is your qualification and degree is enough to apply for any particular scholarship?
Bitter reality about scholarships
Always remember one thing about scholarship that this is not something you can gift or give to anybody on their request. Scholarships are not offered to anybody just because he/she belongs to any developed country, or somebody is poor. One gets scholarship on the basis of his/her qualification, eligibility criteria and mental skills. Now come towards the important questions.
Are you eligible enough to get scholarship?
Well, to get a scholarship, you must be up to mark according to the requirements of scholarship providers. Keep following things in your mind:
You should be from a country mentioned by scholarship providers
Make sure your age should be according to scholarship criteria, you are about to apply (well, age is not required for every scholarship)
If you are applying for Bachelor's scholarship, you must be having High School degree or diploma
You must be having good command on English language. People weak in English language normally suffer
Is your qualification/degree enough to apply for scholarship?
If you meet the maximum criteria of the scholarship, it doesn't mean that you will get it. It is true that qualification plays a vital role, but there will be number of people applying for the scholarship with the same qualification. Therefore, there are few things set up by the scholarship providers to filter out the best candidates:
Academic record and potential of any student in the field of study
Candidate should be able to make a link between his/her objectives and study field
Motivation letter by the students
Your excellence in other curricular activities and previous record
For research students, students are judged on the basis of their published research and quality of working potential
You mentor is very important with whom you did your past project or research. Star produces stars if you know what I mean
Reference letter with proper statement showing your project or research specific or study abilities.
With the help of above information, you will be able to know your positive as well as weak points. In case, you do not possess good academic result then this is the right time to start putting your effort on your studies. Moreover, start working on your weak areas to cope up with time to get a chance to apply for some scholarship. Always remember one thing; you cannot achieve success without hard work. Effort, motivation and potential are the key of successful future.