Best / Top Job Interview Tips and Tricks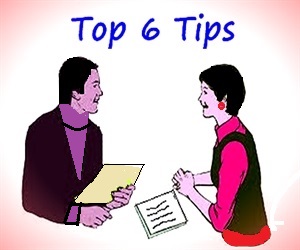 Job interview is not an easy task as things become so demanding now days so perfect job interview tips are provided. Because whenever you are going for a job interview, you will experience new atmosphere and new people so you must be capable enough to handle any type of situation. For that, preparation for a job interview is essential as it reflects your inner qualities. Now question is what you need to do. Here are best / top job interview tips and tricks that will assist you in a proficient manner.
Practice, basic tool for a job interview: A person who is going for a job interview must be capable of answering any sort of challenging question. You need to practice about certain things at home first if you want to give best interview. For that, first thing that is required is your confidence. You should be confident about answer as confidence is something that plays an important role in raising your self-esteem. In addition, you must be familiar with certain techniques that how to behave in a group of people.
Searching: Before a day to interview, search about few common things that increase your general knowledge because it is not necessary that every question your interviewers ask you must be about your field. Moreover, try to show your inner qualities by talking about your ideas and thoughts. it will reflect positive side of your personality.
Way of dressing: Your way of dressing is another important thing. People usually judge others by their way of dressing so be cognizant about your style. For a job interview, one must need to look formal and elegant. It will convey good impression of yours.
Punctuality: Never get late for your interview. Punctuality is the basic requirement of every job so one should be punctual about timings.
Behave in a calm way: It is definite that during interview usually people get confused. However, whenever you are going for an interview try to behave in calm and unruffled way. Keep good face expressions in order to hide your perplex state. Moreover, try to avoid blunders and mistakes.  Be fluent while speaking to others. Show yourself anxiety free in front of others.
Give a good end: Always say thank you and good-bye in the end of your interview in an attractive manner. It will leave positive sign of your personality on others.
Above are the few tips that can play a beneficial role in making your job interview a memorable one especially your behavior and punctuality. In addition, increases your chances of approval in your interview, what is more important tip for you?