Biozentrum University of Basel Scholarships 2017 for International Students in Switzerland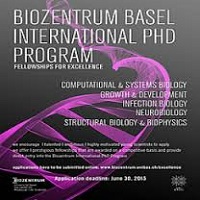 PhD Scholarships 
Fully Funded Scholarships for International Students 
2017 / 2018 Scholarships in Switzerland
Biozentrum University of Basel Scholarships 2017
Biozentrum University of Basel is offering scholarships for international students from all countries. These scholarships are offered for those applicants who want to pursue their PhD program at the Biozentrum University of Basel in Switzerland. These awards are offered to outstanding students that recognized as a achievements for the future career of fellow.
Field of Study / Subjects
Applicants can choose fields related to the Molecular Life Sciences for PhD program offered by the Biozentrum University of Basel.
Other latest Scholarships in Switzerland are also offered for different degrees and subjects all over the Switzerland.
Number of Scholarships 
10 scholarships are offered by the Biozentrum University of Basel for PhD degree
Duration of Scholarship
The duration is 03 year for PhD program
Scholarship Description / Details
This award provide many grants for the applicants, these following grants are:
A annual stipend, e.g. to allow attendance of meetings, acquisition of books or computers (currently CHF 6'000 total for 3 years)
Yearly study trip to a city with ties to Siemens, e.g. Berlin, Munich, St. Petersburg
Financial support for travel to postdoctoral interviews at the end of the PhD thesis
Support for the preparation of the personal CV and postdoctoral application by Biozentrum faculty members in the Fellowships for Excellence committee
Eligibility Criteria 
In to be considered for this award, candidates must be:
International applicants can apply for this scholarship
Applicants must have a BS and MS degree for PhD program
Must have a good academic record
How to Apply / Download Scholarship Form / Documents Required
Applicants can apply for this scholarship, must follow some steps:
Contact us:
Angie Klarer
International PhD Program
Biozentrum
Klingelbergstrasse 50/70
4056 Basel/Switzerland
Tel: +41 (0) 61 267 21 60
Email:klarer@unibas.ch
Last Date to Apply / Deadline: 21st June (annual)
Official Website: Just go the following to get more information
http://www.biozentrum.unibas.ch/excellence