Certified Information Professional (CIP)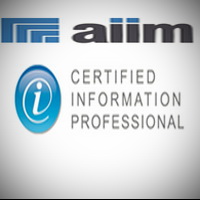 Certified Information Professional (CIP)
AIIM (Association for Information and Image Management) is the global community of information professionals which helps the organization in the era of information chaos. It provides its professional with a credential along with a renowned training.
What CIP signifies? CIP molds the vision of professionals to alter the business world thoughts about information and IT. It was developed with the collaboration of ISO Standard 17024. It evaluates the ability to bridge IT and business, enhance the worth and lead the organization in social and mobile content.
Eligibility Criteria 
AIIM gives certain eligibility criteria to prospective candidates:
Minimum three years of experience along with increasing responsibility in any topical area.
OR
Bachelor's degree in an information management-related discipline like information technology, information security, library science) etc. along with one year of experience is required.
Exam Content / Syllabus / Sections
CIP mainly demonstrates knowledge on the basis of six sections.
Access/use: The tools to enable access or retrieval of information. Exam focuses on four topics: Enterprise Engine, Business Intelligence, Master Data Management and Text Analysis.
Secure/preserve: The tools and strategies to protect information systems from unauthorized access. Six topics comes under Secure/preserve: Security, Records management, data privacy, digital right management, Archiving and E- Discovery.
Capture/manage: To capture and manage information within the organization. Exam focuses on topics like Information Capture, Business process management, Knowledge management, email management and content management.
Architecture/systems: The structure and systems to enable environment to access and deliver information. Exam focuses on topics like Information Architecture, Technical Architecture, Cloud Computing, Mobile Applications and websites/Portals.
Collaborate/deliver: tools to support information and communication to attain business goals. Exam focuses on topics like Collaboration, social media, information workplace, instant messaging, and telecommuting support and web conferencing.
Plan/implement: to manage and plan the information management framework to support business. Exam focuses on topics like Strategic planning, building the business case, implementation planning, requirements definition, solution design and change management.
Scoring Criteria / Test Fee / Registration Fee
CIP exam consists of 100 multiple choice questions with allocated time of 2 hours.
Demonstration will be made on the basis of six domains.
Exam will be delivered electronically via Prometric.
Disabled candidates will be given accommodation for completion of exam.
Candidate has to score 560 or higher to pass the exam. After completion of exam, candidate immediately will receive the score report from test center. The cost of exam is $ 265.
How to Apply / get registered?
Candidates can get themselves registered via Prometric page at
Exam is available year-round worldwide at Prometric test centers.
Schedule the exam and accept Candidate Agreement onward.
How to get Prepared / Test Preparation Tips
AIIM has a special montage to get prepared for CIP exam.
Take free CIP practice test
Access video library of tutorials made up of six domains.
Do access the CIP Study guide consists of 100 topics on 6 domains. If you are not the member, download it.
For more preparation, made study groups or contact partners via
CIP Exam Retaking Policy
If a candidate fails he/she has to wait for 14 days and if he/she fails again, he has to wait for 90 days.
If a candidate violates the retake policy, he may not be able to schedule any exam till 12 months
Candidates may challenge the exam questions in one month. A written appeal must be sent to certification@aiim.org along with candidate's contact information and candidate's number.
Contact Details
AIIM Addresses
1100 Wayne Avenue, Suite 1100
Silver Spring, Maryland 20910, USA
Tel: 301.587.8202
Toll free: 800.477.2446
Email: aiim@aiim.org
Website: www.aiim.org