Colonel Sanders Founder of KFC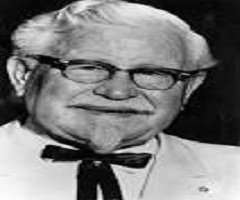 Biography of Colonel Sanders
Early Life
Colonel Sanders founder of KFC was a famous businessman and entrepreneur of United States of America. He bore in the year of 1890 on September Henryville, Indiana in United States of America. His father's name was David Sanders while his mother was Margret Ann. He was the eldest of their children who were three in number. Colonel Sanders was unable to get any proper education as his father used to work on a farm and in an accident he broke his leg. In the year of 1895, his father died of fever and some other diseases.
Initial Career
As mentioned earlier he was unable to get education due to lack of financial resources. His mother used to work in a farm after his father's death and Harland was to care his siblings behind.  He was just 10 years of age when he started his personal career when he joined Charles Norris and Henry Monk who were local farmers as a farmhand. Later on, he continued his career and did many jobs after his mother's remarriage in the year of 1902. He continued his career as a conductor when he joined his uncle who used to work for a streetcar company.
Founder of KFC
Colonel Sanders is widely known and credited as founder of Kentucky Fried Chicken or KFC. After his initial jobs and career, he was tired of such kinds of low standard works so he started to think about his own business. After some businesses, he started; he was working in Corbin which is situated in Kentucky, those days. The famous shell oil company offered him a service station to start over there. After this work, he got his basis in Kentucky and later on founded the very famous KFC.
KFC
Kentucky was founded by Colonel Sanders in the year of 1930. From the year of 1915, Colonel started his own businesses in many cities. That was his reputation that, after getting an offer of a station of Shell Company in Kentucky, he founded his own company after anchoring his own basis in the state and named it as Kentucky Fried Chicken or KFC. Generally KFC is a hotel and fast food sector chain with its branches in more than 90 countries all over the world including, United Kingdom, France, Canada, Pakistan, India, Mexico, USA, China and Norway. Presently this company has about 50,000 employees working with it and its head quarter is in Kentucky in United State of America. The employee growth of company is about 13% which is very large with global revenue of 54.3 billion United States dollars. It was included firstly in the best place to work list in the year of 1989.
Death
He died in the year of 1980 on December 16th in Louisville in United States of America and was about 90 years of age.