Difference between Bill Gates and Steve Jobs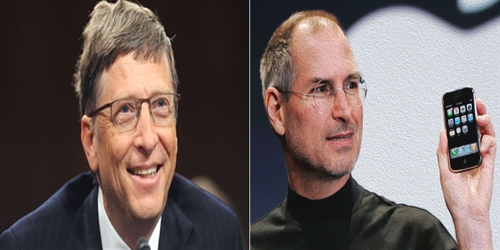 Since years, it's been a controversial debate on these two personalities who put effort in the tunnel of technology. Steve Jobs, being an apple co-founder and Bill gates being a Microsoft chairman and a born marketer with technical corps of computing. These two rivals are considered as the opposing forces for each other. Today, his iPad are selling like a cup cakes. Well! Talking about their similarities, both of them were not bright students, both relied on their inner skills. They develop the habit of self -learning and today they are the most known persons in the field of technology. Bill Gates is founder and currently chairman of Microsoft and Steve jobs is the establisher of Apple Company which is now growing through leaps and bounds. Let's study difference between Bill Gates and Steve Jobs in detail.
Bill Gates
Bill gates parents name was William H. Gates and Marry Maxwell. His father was professionally a lawyer. He is among the wealthiest person of the world. And presently he is living in Washington.
Steve Jobs
Steve jobs was an American citizen and he was adopted by Clara jobs and Paul jobs. He has three children and died due to cancer. He is renowned for his revolution in personal computers.
A glimpse to their Span
Bill Gates  was born on 28th October, 1955. He belongs to a middle class family who prompted to Harvard.
Steve jobs was born in 24th February, 1955. He was brought up in modest means and didn't gain high education.
What they both are known for?
He is mainly known for his first creation BASIC in 1975. He himself wrote the code for Microsoft early products. He didn't rely on anyone in begging so he starts his work as a programmer.
Jobs from the very starting understood the scale and leverage. He got famous when he introduced APPLE 1 in 1976. On the other hand, Steve jobs collaborated with Steve Wozniak to create the first Apple Computer. He was a man who grasped style and managed from the start.
Let's know a brief overview of their career!
Bill Gates becomes popular when the windows become the default operating system of the entire world. They both had a great friendship with each other. They remained friends even for 7 years.
At this time, when windows were gaining fame, Apple was at the death stage. In this age of perplexity, Steve jobs took an investment of 150 million from gates in order to give a rise to Apple. His major achievements are IPOD, IPAD, TABLETS, MUSIC players, smartphones etc. Youth is grasping his ideas more because he introduced current technology.
How much popularity both gained?
Microsoft reached its all-time peak in market capitalization in September of 2000, when the stock was worth $642 billion. Today it is worth only about a third as much–at $229 billion (as of Oct. 25). Now, Bill gate is the chairman of Microsoft.
By contrast, Apple's market cap has climbed from a mere $6 billion at the end of 1998 to $364 billion today (again, Oct. 25)–a 60-fold increase.
Was Steve angry at gates? A controversial debate
As far as I have gone through the sites, he was angry at all time rather on the stage when they were together. If he was little angry, the only reason was that he stole his idea. Steve was asked to praise gates regarding Microsoft. There he called bill gates a true recognizer of software. He was not bitter at him because he, for bill gates left a letter on the back of his curtain which proves his love and ultimate affection for him.
Bill's Reaction on Steve's Death
Bill gate was saddened on his death because they were good friends. And Steve has touched his heart through his work.
Conclusion: Both the personalities have their own achievements and popularity depending upon their work. They both have revolutionized the IT industry. Do you want to say about these great IT Geeks? Do you?