Donald M. Kendall Founder of PepsiCo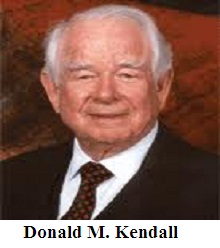 Biography of Donald M. Kendall
Early Life
Donald M. Kendall founder of PepsiCo is a famous former businessman of United States of America. He was born in the year of 1921 on March 16th in Sequim, Washington in United States of America. He got his early education from his home and after that by studying in local school. After his early education, he joined Western Kentucky State College. He is the holder of so many honorary degrees from different universities that every degree can't be mentioned. He received honorary degrees of Law from Stetson University of Florida and then Babson College, Massachusetts in USA. He also received honorary degrees of doctorate of law and Humane letters from Gonzaga University and Mercy College of New York respectively.
Interest in business politics
Donald M. Kendall was very much interested in business and for this regard he used to sell different things in his childhood and young adulthood. His keen desire to become a very well known and famous businessman led him to the founding of PepsiCo Inc. On the other hand, he was interested in politics as he is known as the one the best political advisers of United States of America of all the times.
Co founder of PepsiCo Inc
Donald M. Kendall is widely credited as the co founder of PepsiCo Inc. with Herman Lay. He joined a company named as Pepsi cola in 1956 as a sales representative and later on he met with Herman Lay in the same company. Donald M. Kendall's rank was increased to vice president from sales manager due to his hard work but after discussion with Herman Lay, both of these guys founded the PepsiCo Inc. in year of 1965.
PepsiCo Inc.
PepsiCo Inc. was founded by Donald M. Kendall and Herman Lay in the year of 1965. Formerly it was a local brand company which was founded by their inspiration from Pepsi cola but soon due to its quality products it left behind the Pepsi Cola and became and international brand. This is a multinational company at the times producing numerous types of drinks with Pepsi as the most popular and famous among them. Donald Kendall was the first Chief Executive officer of PepsiCo Inc. from its founding year to just a decade ago.
Present Situation
Donald M. Kendall is 92 years of age at the time but he is still very active in his work and his work of political advisory is still on the go. He believes that his guideline may flourish many new advisers like him and in this regard he is guiding everyone whiteout any incentive.