Federico Faggin Inventor of Microprocessor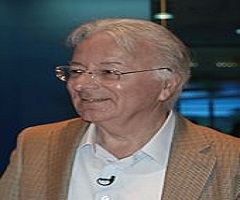 Biography of Federico Faggin
Early Life
Federico Faggin inventor of microprocessor was a very famous scientist and physicist of Italy. He is known best for his invention of microprocessor and it can be said that this invention led him to be very famous scientist of the field. He was an Italian by the nationality and descent pattern.  He was born in the year of 1941 in the month of December on 1st day and his place of birth was as Vicenza which is located in Italian Empire. Though he was a scientist of field of physics but his contribution to the sub fields of physics; electronics and a totally separate discipline, computer are quite well know.
Education
He was a brilliant student from his very childhood but the most important thing was that, his parents were aware of his mind capabilities because he had shown his extra ordinary skills many times in his early days. After the initial education form schools and college over there in his city, he moved to the University of Padua. His field of study over there was as that of physics and he earned a degree in this discipline after some years of study over there. Later on, he got admission in Technical School of A. Rossi which was of high classes. He studied over there and graduated from it in the same field of study.
Career
After the completion of his studies, he started his career very soon when he started working at a job there in Olivetti in Italy. During that job, he got another degree from his university so his technical skills also increased. Working there, he conducted different experiments to take out this invention and to build a good microprocessor holding computer. His interest in field of electronics and computer sciences resulted in one of the most influential inventions of the era.
Inventor of Microprocessor
Federico is widely credited as the inventor of this micro thing which holds the edges of doing many great and valuable works in it. He also worked in Intel and helped them developing the microprocessor. The invention of microprocessor gave him sudden and immense fame and he became the name of authority in the field of computer, very quickly and very soon.
Microprocessor
A microprocessor can be said as a basic thing of computer which works as the most important agent of a computer processing. It encompasses the process of central processing unit of a computer which is also known as CPU. On the other hand, its working era is also connected with the integrated circuit in single format. This can be said that modern computers are built on these microprocessors holding central processing units and which is a multipurpose unit.
Death
He has not died till yet and still imprisoned by the life. Presently he is about 73 years of age and living a good life.