How to stay in shape after marriage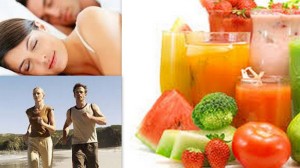 Everyone wants to appear gorgeous, attractive and smart in present era. However, majority of male and female becomes bulky and chubby after marriage. Most of the girls think that after getting perfect guy, they don't need to look smart and appealing anymore. Well, this assumption is totally wrong because your appearance play an effective role in this technological era. There are various reasons behind gaining weight after marriage such as, late dinners, no workout, oily and fast food, parties and clubbing. However, still you can look dazzling, fit and stay in shape after marriage by following few simple tips.
Tips to stay in shape after marriage
Always prefer to cook less fat food: Majority of females expresses their love towards their husband by cooking luscious and tasty food that comprises of fats and calories. It is good to show affection and love towards your partner, bur make sure not to forget about health issues. Food having fats and calories not only make your appearance bulky but unhealthy as well. Well, it does not mean to overlook fatty food; you can keep it for some specific events. Balanced diet is a key factor to keep yourself handsome and fit.
Fill your fridge with health food: It is important to fill your fridge with healthy food such as fruits and salads. This will keep your weight in tact as compared to store chocolates, artificial juices and junk food.
Walk on daily basis: Couples can maintain their physique after marriage by going on walk on daily basis. This is the best way to spend some time together as well as helpful in keeping you fit and smart. So what you want more? Schedule your routine and find out time for daily walk.
Workout in Gym: You get married but it does not mean to ignore the importance of workout and gym. Make sure to get some time for workout from your busy and hectic routine. Always remember, importance of health cannot be overlooked at any case whether you are married or not. In short, if you will be healthy and fit then you can take care of your partner and family more properly. Therefore, at least spend 40 to 45 minutes on workout to appear smart and attractive. It is important that you know about foods not to eat after workout.
Keep your fridge filled with healthy food: Prefer to keep your fridge filled with food containing protein, vitamins, fibers and calcium in it. Unhygienic and food containing fats and calories can easily spoil your health and physique so be careful. In case, you are a food lover even then prefer to go for healthy food instead of junk food.
Do your dinner on time: Couples normally use to go on late night dinners so they can spend lovely and lavishing time together but did you ever think about late night dinner side effects? No? Be careful. Late night dinner is not good for your health so make sure to take dinner on time. Science proved that after 10 P.M, your immune system does not work properly. Moreover, always digest the food properly to appear healthy, smart and appealing among others.
Take proper sleep: How we can forget to mention about proper sleep while talking about fit figure and appearance. Your immune system and appearance somehow depends on the hour your normal sleep. Therefore, don't forget to take proper sleep after marriage. In short, sleep well and wake up fresh for the entire day.
Intake of Bottle of Wines: It is a common practice to drink wine on weekends with your partner. Enjoying wine, relaxing and watching movies is great but with a bit care. As a normal sized glass of wine may contain 100-150 calories and drinking two many glasses of wines can result in quick weight gain.
Conclusion: Its a fact that healthy food and exercise can mainly help you stay in shape after marriage, still other factors are important.