Ingvar Feodor Kamprad Founder of IKEA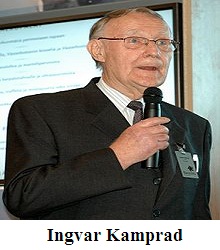 Biography of Ingvar Feodor Kamprad
Early Life
Ingvar Feodor Kamprad founder of IKEA is a Swedish businessman. He was born in Almhult, Sweden in the year of 1926 on 30th March. His childhood was spent in a farmhouse named as Elmtaryd. Basically his family was from Germany, but some decades before his birth his grandparents moved to Sweden with their whole family. He got his early education from his parents but for formal education, he was admitted in Lousy elementary school. After his early education from there, he got admission in his local town school. He was not much interested in studies and had a business mind from very young age.
Interest in Business
He tried to develop his own business from very young age when he started to sell matchboxes to nearby people putting them on his cycle. He used to buy matches from Stockholm in large number and sold them separately to different person and in this way he was earning good profit. He changed many businesses in very young age as he sold even fishes, Christmas trees, seeds, ballpoints and pens. As the time passed, he came to know that without proper studies he can't do anything and as a result he started to give proper time to his studies. In the age of seventeen years he was awarded a cash prize from his father for achieving good grades in his studies.
Founder of IKEA
In very young age, he came to know that he can't do any proper business without any proper platform and by selling different things at different times; he can't be a good businessman. In this regard, he thought to set any company of any specific product. That is why, after discussion with his uncle Ernst, he founded IKEA in the year of 1948 when he was just 22 years of age. Ingvar Feodor Kamprad made its portfolio and diversified it about furniture production.
IKEA
IKEA was found in the year of 1948 by Ingvar Kamprad. This is a retailer company for production of home based furniture. Soon after its formal inauguration, Ingvar started to produce furniture for home usage and for this purpose he collected some loan and funds from his relatives. Presently IKEA is one of the leading manufacturers of furniture of home usage and commercial usage all around the world with thousand of offices and more than 127000 employees in different countries.
Present Situation
Ingvar Kamprad is considered as the richest man of Sweden and a very well known business Tycoon. He has a net worth of more than 46.2 billion dollars. Presently he is almost 87 years of age and currently residing in his home country.