Inter Services Selection Board Test (ISSB)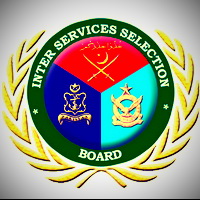 Inter Services Selection Board (ISSB) Qualifying Test
Are you really intending to serve the military department of Pakistan? Then ISSB is right knocking your entrance. ISSB is a committee used to select candidates for officer commissions in the armed forces of Pakistan like Army, Navy and Air Force. Candidates who qualify the test go through a medical test primarily the Pakistan Military Academy in Kakul, Pakistan Naval Academy in Manora and Pakistan Air Force Academy in Rasilpur. It measures the candidates' fitness and willingness to proceed in any stress situation.
Eligibility Criteria / Documents Required
Candidates must have passed Matriculation or F.A/F.Sc/ICS/A/O levels/graduation/ Masters (According to the course requirements candidate intends to apply for).
Original mark sheets of degrees are must
Original matric certificate should be with the candidate at the time of arrival as no mere result card/mark sheet will be acknowledged otherwise certificate signed by secretary board merely if the issued certificate is not with the candidate.
In case of O /A level, a candidate has to bring equivalence and birth certificate.
Domicile is a perquisite.
3 colored photos duly attested.
Original NIC. If less than 18 years old, CNIC of father and mother should be with the candidate.
Before going for test, do contact GSO-2 (selection) or GSO-2 (Selection) ISSB Kohat for the confirmation of the educational certificates.
In case of non-possession, he/she will not be allowed to appear in the test without paying travelling allowance.
Course Outline / Syllabus
Psychological Tests: It includes intelligence and personality tests are held on first day. Intelligence test which is designed to evaluate the mechanical sense of candidates and personality tests are the written tests of analytical/projective type.
Outdoor Tests: It includes group discussion, planning, group tasks and individual obstacles (tackling/handling tasks).
Interviews: Interviews contain queries related to the candidates' life, academics; general awareness in order to grasp his/her views.
Testing Programme: It involves Arrival Day (Reception, Checking of Documents, Issuance of cards, photographs, administration staff's address and completion of Boards Questionnaires. 1st Day starts with opening address by a deputy president, intelligence test, Announcements of screening out results and remaining psychological tests. 2rd day includes briefing, indoor tasks, group discussion, group planning, outdoor tasks, progressive group task (PGT), Half group task (HGT) and interviews. 3rd involves individual obstacles, command task, final group task (FGT) and interviews (leftovers) and 4th Day includes conferences, preparation of all the results and dispersal of candidates.
For queries, visit the link of FAQs http://www.issb.com.pk/FAQs.html
How to get registered / How to Apply for ISSB 
It provides online registration for Pakistan Army, Navy and air force. Go to their official sites and get registered if advertised. Test are held in any one of the three locations of Pakistan:
Gujranwala
Malir
Kohat
Quetta
If intending to apply, contact your nearest ISSB centers where candidate will appear for initial written test and physical checkup. Candidates will be informed via call letters, required fee and date will be mentioned in the call letter.
ISSB Test Preparation
Preparation is a must when intending to step in the military area. Considering books, online test materials can cater you very well. Here is a list of academies helping candidates for ISSB preparation.
Eagles Career Academy, Tel (+92-321-2624265, Address (12-C, Phase II, Defence View Karachi, Pakistan)
Air Forces Academy, Tel (+92-321-5331252), address (Turkish lane, Javed Shaheed Road, Jinnah Abad, Abbottabad)
Forces Academy (Regd.), Tel (+92-51-4428988), address (Yousef plaza, Opp Moti Mehal Cinema, Tipu Road, Rawalpindi)
Pak Forces Academy, Tel (+92-333-6361477), Address (Cantt Campus, 1 Harley Street II, R.A Bazar, Rawalpindi, Pakistan)
Global media is fully loaded with websites helping students to get prepared like www.issbprepaartion.com and www.gotest.pk. Search inside the shell and go through sites as much as you can.
ISSB Test Schedule / Dates
| | | |
| --- | --- | --- |
| | Course | Duration |
| Pakistan Army | 135 PMA long Course | 1st January to 11 April 2015 |
| Navy Force | NA | NA |
| Air Force | NA | NA |
Attention: Candidates of Quetta will be called at ISSB from 21 February to 31st march for ARMY, navy and PAF courses.
For further details, visit tentative schedule for ISSB tests http://www.issb.com.pk/schedule.html
Rescheduling Information
If due to any personal reason candidate fails to approach the location, write an application along with the justification of absence i.e., copy of examination and send it to GSO-2 (selection) ISSB Kohat Cantt via post (mail/TCS). According to that, the test will be rescheduled.
Contact Details
Postal Address: GSO-2 (SELECTON), ISSB KOHAT CANTONMNET
POST CODE 26000
Tel: 0922-9260085, 0922-521-3808
ISSB Gujranwala
Postal Address: GSO-2 Selection ISSB Gujranwala Cantt.
Tel: 055-269-3814 and 055-3866036
ISSB MALIR
Postal Address: GSO-2 (Selection), ISSB Malir.
Tel: 021-4953810 and 021-9247448
ISSB QUETTA
For contact info of ISSB Quetta, do contact GSO-2 (Selection) Kohat.
Email: gso2@issb.com.pk
Website: www.issb.com.pk