ISACA's Certified Information Systems Auditor (CISA)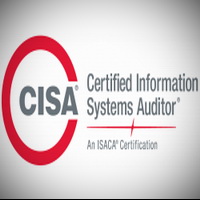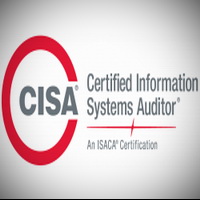 Certified Information Systems Auditor (CISA)
ISACA (Information Systems Audit and Control Association) is a non-profit global organization. It reflects the broad range of IT professionals and offers credentials. It is globally recognized for information system audit control and security professionals. It demonstrates the audit experience, vulnerabilities, report on compliance and controls within the enterprise.
Eligibility Criteria
1 year experience of information systems or non-IS auditing experience of 1 year.
OR
4 years bachelor's degree completed credit hours from accredited university along with 1 or 2 years' experience.
OR
OR
A master's degree from recognized university in information technology or information technology can be considered as a 1 year experience.
Adherence to the code of ethics and information systems auditing standards.
Course Outline / Sections
CISA is conducted three times a year. It consists of 200 multiple choice questions and uses a format of one correct answer per question. It has five domains under the review manual:
The process of Auditing Information Systems (28 questions)
Governance and Management of IT (28 questions)
Information Systems Acquisition, development and implementation (38 questions)
Information Systems operations, maintenance and support (46 questions)
Protection of information assets (60 question)
Exam Registration Fees / Test Fee 
| | |
| --- | --- |
| Processing fee | US$50 |
| Online early registration fee | US$ 625 (NON MEMBER), US $ 440 (member) |
| Mailed/fax early registration fee | US$ 700 (NON MEMBER), US $ 515 (member) |
| Online final registration fee deadline | US$ 675 (NON MEMBER), US $ 490 (member) |
| Mailed/fax final registration fee deadline | US$ 750 (NON MEMBER), US $ 565 (member) |
| Annual maintenance fee | US $ 85 and US$ 45 for non-member and member respectively |
Note: Online registration will give a saving of some USD and will enable a candidate to get registered for exam, buy study materials, discounts and ISACA membership.
Scoring Criteria 
ISACA uses a score scale of 200 to 800. 200 represent the lowest score and 800 show the perfect score. It is a must score 450 to pass out the exam.
How to Apply / get registered?
How to get Prepared / Test Preparation Tips
Download ISACA exam candidate information guide for exams via
Visit the Job Practice area consisting of task and knowledge statements
Grasp the study materials available in various languages on ISACA's site.
ISACA provides online learning courses at ISACA eLearning campus.
Review courses
Terminology lists is helpful as it consists of technical terms in English and other languages.
ISACA provides vocabulary to the CISA exam as well.
How to take Exam / Test Venues
After the requirements and confirmation of application form, Admission ticket will be released before 2-3 weeks prior to the exam date.
Candidates will receive in MYISACA page of the website.
It is a must to have a copy of ticket at the time of exam. The ticket will indicate date, time and location of exam.
Misconduct, personal belongings and security must be seen by the candidate on site.
After exam, score report will be sent to the candidate either pass/fail.
A candidate receiving the passing score may apply for the exam if all requirements are met.
Passing the CISA exam doesn't mean that a candidate is granted for CISA designation. For that, he/she has to earn the job experience and submit a CISA application.
After the approval of application, a candidate can use CISA designation.
Exam Retaking Rules / Renewal of Certification 
Candidates receiving a score less than 450 can retake the exam by paying the exam fees for prospective success. There is no limit to a number of times a candidate can appear for the exam. Renewal requires earning and reporting over period of 3 years and paying annual maintenance fee.
For more details and queries visit FAQ's
http://www.isaca.org/Certification/CISA-Certified-Information-Systems-Auditor/Pages/FAQs.aspx
Contact Details
3701 Algonquin Road, Suite 1010 | Rolling Meadows, IL 60008 USA
Phone: +1.847.253.1545 | Fax: +1.847.253.1443
Call Certification coordinator for details: +1.847.660.5660
Michele Luck man: +1.847.660.5574
Website: http://www.isaca.org/