Jagadish Chandra Bose Inventor of Crescograph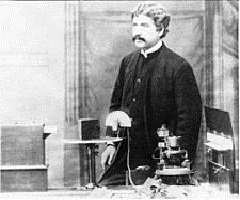 Biography of Jagadish Chandra Bose
Early Life
Jagadish Chandra Bose inventor of crescograph was famous scientist of his own field. He was born in the year of 1858 on November 30 in Bikrampur which was located in the Bengal presidency and now a day considered as Bikrampur, Dhaka in Bangladesh. He was son of Bhagawan Chandra Bose who was a Brahma from the religion basis. His father was a deputy commissioner and magistrate by profession. He started his initial education when he joined vernacular school which was a local based school. His initial education was in Bengali language but later on, he moved to another school in the year of 1869 which was named as Hare School. After that, he was enrolled in St. Xavier School which was located at Kolkata and he joined it in the year of 1875.
Education
After his initial education in vernacular school, hare school and St Xavier School, he joined University of Calcutta for further education. He didn't had any specific interest field of study initially but later on, after meeting with Eugene Lafont, his interest developed in natural and biological sciences. He earned his bachelor's degree from the same university after passing entrance exams in the year of 1879. He wanted to continue his study in UK for Indian Civil Service but as per the wish of his father and his interest too, he moved over there to study the medicine.
Plant Sciences
As he was studying the medicine in university of London but later on, he went to University of Cambridge from where he earned a degree in natural sciences. Before that, he had earned a degree in medicine from University of London too. He was interested in biological sciences and specially natural sciences and it can be said that, it was his interest in both of the fields which led him to be the inventor of crescograph and a famous scientist of plant sciences.
Inventor of Crescograph
Jagadish Chandra Bose is widely known as the inventor of crescograph and that was just this invention which led him to be a famous name of the field. Jagadish invented the first crescograph in the start of twentieth century for the first time.
Crescograph
Crescrograph is a complicated instrument or device which can be said as the key of plant sciences. Its main function is to measure the growth and development in different plants. There are two important things in this instrument which help to measure the growth and these are as a smoked glass plate and a number of clockwise gears. The plate is marked after regular distance intervals and the clockwise gears are used to measure that how growth is influenced and how it moves on under different conditions.
Death
He died in the year of 1937 on November 23. He was almost 78 years of age at the time of his death.