John Cadbury Founder of Cadbury Chocolate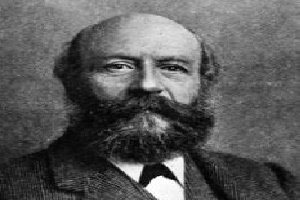 Biography of John Cadbury
Early Life
John Cadbury founder of Cadbury Chocolate was born in Birmingham, England on 12th August, 1802. He was born in a Quaker family. Quakers were different type of persons who remained isolated from many worldly things. His father was Richard Tapper Cadbury who was a draper in Birmingham. He got his early education from Joseph Crosfields Quaker School of Hartshill. Due to his Quaker family, after completing school studies he has no choice to study further. Every field of study was banned in way in his family. So instead of his higher studies he was sent to a Quaker named John Cudworth, who was a tea retailer, for learning trade and business of tea retailing.
In that shop he became very famous for his sober and honest nature. Employees of that shop trusted him and made him in charge on many occasions.
Interest in Tea, Coffee and Cocoa
While his stay at work in tea house in Sanderson Fox, London he used to read an encyclopedia. In that he read about the East India Company and trade of cocoa, coffee, and tea. His interest developed in that business and he wrote a letter to his father for mentioning the potential of that business, especially cocoa.
Beginning of Business
His father gave him some money for opening up a tea and coffee dealing roaster in 1824. He opened a shop in Bull Street, Birmingham. HE decorated his shop in a way that everyone was attracted towards his shop. He also took care for the quality of the products which he sold. He created the image of his shop in the mind of customers as the most nutritious breakfast beverages prepared from cocoa. His shop's looks attracted very rich people of the Lloyds banking family and made them his regular customers.
Founder of Cadbury Chocolate
His interest in cocoa increased with the passage of time and with increase in the operations of his shop it further increased. For that reason he opened a factory of cocoa in 1831. In that factory he did experiments on many products from cocoa. He made so many varieties of chocolate and cocoa, these products included sixteen drinking chocolate products and eleven cocoas. As the company progressed, his brother David Boddy also joined him in business and they moved to a bigger factory on Bridge Street in 1848. They also renamed the factory as "Cadbury Brothers". But in 1960s that partnership was over and his son Richard Barrow Cadbury took over the company and "Cadbury Brothers" again became "Cadbury".
Cadbury
Cadbury is a multinational company of England in the field of confectionary. It is known as the world's second biggest brand of confectionary after Wrigley's. It's headquarter is located in Uxbridge, London. It is running its operations in more than fifty countries around the globe.
Its most famous brand is Cadbury Dairy Milk chocolate. Other products include the Crème Egg and the Roses selection box.
It was initially founded by John Cadbury, and then partnership with his brother occurred. After that partnership John's son took over. Then it was merged with J. S. Fry and Sons and Schweppes. In 2010 it was bought by Kraft Foods. Today it is owned by Mondelez International.
Later Life
He was very fade up from the difficulties and miseries of the life. He wanted to design a village free from all worries of life. Moreover he was very keen in saving animals and for that purpose he founded the Animals Friend Society under the Royal Society for the Prevention of Cruelty to Animals. His sons completed his dream of such a village in 1879 by founding Bourneville. He retired from 1861 he retired from Cadbury.
Death
His mother died in 1855 due to tuberculosis. After her death he suffered from contracted rheumatic fever and depression. After suffering for a long time he died in 1889 on 11th May. He was buried at Witten Cemetery in Birmingham.