John Willard Marriott Founder of Marriott Corporation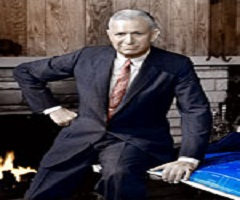 Biography of John Willard Marriott
Early Life
John Willard Marriott founder of Marriott Corporation was a famous American businessman and entrepreneur. He was born in the year of 1900 on September 17th in Marriott settlement, Utah in United States of America. John was brought on his father's farm and he was given very much responsibility by his father in a very young age. His father sent him to San Francisco with more than 3000 sheep through a railcar when he was just 14 years of age.  In the age of just 19 years, he undertook the traditional custom missionary work as a devout Mormon.
Initial Career
He started his career in the age of 21 years when he left the church missionary work as a devout Mormon. He worked as a Mormon for church for about a period of two years. In the year of 1927, he got the rights for franchise of A&W Root Beer for Washington DC, Maryland and Virginia. After that he moved to Washington to start his own formal business and there he opened a nine stool root beer with his partner Hugh Colton.
Founder of Marriott Corporation
John Willard is credited as founder of Marriott Corporation. After his initial businesses, he turned his attention to food side and in this regard he started his first family restaurant known as The Hot Shoppe in the year of 1928 in Utah. After that, he started to expand his business in different states in the way that he opened his first dive in the east of Mississippi. His chain of restaurants grew with time and the time came when he opened his first Marriott hotel. This was actually a motel at that time which was started in Arlington, Virginia.
Marriott Corporation
Marriott Corporation formerly known as Marriott Inc. was founded by John Willard Marriott in the year of 1967. As the years passed off, the restaurants were added to the chain as like very first hotel of this chain after Marriott motel were Roy Rogers family restaurant and Big Boy family restaurant. In this way, the Marriott Corporation revenue and interests expended and they continued their food services. Generally Marriott Corporation is a chain of motels, hotels and hospitality resorts in more than 30 countries all over the world. Presently Marriott Corporation has the 328,800 employees working with it and its head quarter is in Bethesda, Maryland in United States of America. The employee growth of Marriott Corporation is about 5% with global revenue of 11.8 billion United States dollars. It was ranked at number one for the best place to work in the year of 1998.
Death
He died in the year of 1985 on August 13th in New Hampshire in USA. He was almost 84 years of age at the time of his death. His founded Marriott hotel is considered as one of the best chains of hotels of the world.