Kashio Tadao Founder of Casio Computer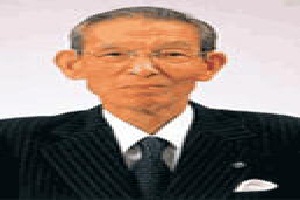 Biography of Kashio Tadao
Early Life
Kashio Tadao founder of Casio Computer Co., Ltd was born in Kureta-mura in Kochi Prefecture, Japan in 1917. That area is today known with the name of Nankoku City. His family migrated to Tokyo because of an earthquake, the Great Kanto Earthquake in 1923. His family moved to Tokyo because his uncle invited them who worked there.
He got his early education from Tadao. After completing his graduation from a high school of Tadao, he started working as a learner for a lathe operator. The owner of the company in which he worked, recognized his skills and capabilities and compelled him to study further. After that encouragement he started studying at Waseda Koshu Gakko which is today known as Waseda University. He continued his work in the factory while his study.
Early Career
As mentioned earlier that he started his career from a factory. After becoming familiar to different skills he gained experience in different types of jobs. He used to make pots, bicycle generator lamps, and pans. Within short span of time he became very popular in the locality. His reputation in his work earned him a lot of contracts and subcontracts for making these sorts of products.
Founder of Casio Computer
After completing his degree in engineering he started his own company in Mitaka, Tokyo in 1946. He named that company as Kashio Seisakujo. That company was an electric products manufacturing company. Its first product that was completely an electric product was released almost a decade after its formation in 1957. That product was a compact electric calculator. Kashio Seisakujo is commonly known as Casio in English language.
Its first product which was not electric based was a yubiwa pipe, which was a finger ringer used to hold a cigarette. That product gave comfort to its users for smoking a cigarette down to nub with also leaving hands free to users.
During the World War II Japan struck with poverty and became a very poor country. And during those days of tension throughout the country usage of cigarettes became very frequent. Because of frequent use of cigarettes his that product went successful.
Casio Computer
The Casio Computer Company, Limited is a multinational company of Japan in the field of electronic manufacturing. It's headquarter is based in Shibuya, Tokyo, Japan. Its products catalog included different variety of electric products, like, mobile phones, cameras, watches, musical instruments, and calculators which was its first electric product.
Later Life
He lived his whole life as the president of his company. His role was very much important in the history of Japan because he founded that electric company at the time when Japan's industrial base was weakening and almost destroyed. His opening of that company gave some boost to Japan's industrial base. He worked for the improvement of the company until his death just for the sake of the economy of Japan.
Death
He died on 4th March, 1993 in Tokyo, Japan. The causes of his death were unspecified. After his death company was taken over by his brothers. He had three other brothers who came into his company as executives at different times, coming after one by one. In his entire life he married to only one lady whose name was Shige Noguchi. From his wife he had three daughters and a son.