Khwaja Abdul Hamied Founder of Cipla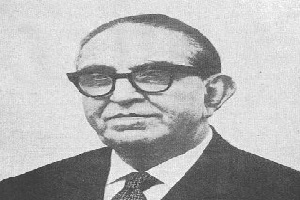 Biography of Khwaja Abdul Hamied
Early Life
Khwaja Abdul Hamied founder of Cipla Global Limited was born in 1898 in Aligarh, Uttar Pradesh, India. He did his graduation from Allahabad University, Allahabad, India. After completing his graduation he went to the Humboldt University of Berlin, Germany for doing his two degrees, i.e. M.A. and PhD. He followed two personalities in his life, one was the founder of India and great Indian leader Gandhi and second one was ZakirHussain, a religious person of Delhi.
Founder of Cipla Global Limited
He studied Chemistry from England and following that he founded a company in 1935 with the name of Chemical, Industrial and Pharmaceutical Laboratories (CIPLA). After the formation of the company he became the chairman of that company.
Cipla Global Limited
Cipla Global Limited is a multinational company of India in the field of pharmaceutical and biotechnology. This is India's oldest pharmaceutical company. The headquarters of this company is based in Mumbai, India. The multinational branches or headquarters of the company are also present in several countries of the world which included two countries; Belgium and Surrey from the European Union, two states of the United States of America; Miami and Florida. This company has its manufacturing facilities in different cities of India which includes eight in Goa, and one each in Bengaluru, Baddi, Indore, Sikkim and so many other cities.
The primary products of the company are medicines for cardiovascular diseases, arthritis, weight control, diabetes, depression and other disorders of the body.
Other Interests
He remained busy in the promotion of pharmaceutical industry in India and apart from that he also served as a member of Senate for the Bombay University. He became the minister in the Cabinet of Mumbai. He also remained the Sherriff of Bombay in his life.
Death
He died in 1972.