Lee Byung-chul Founder of Samsung Group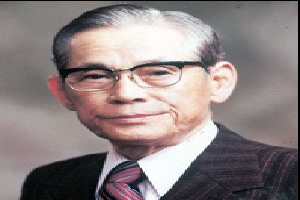 Biography of Lee Byung-chul
Early Life
Lee Byung-chul Founder of Samsung Group was born in Uriyeong, Gyeongsangnam-do, and Korean Empire on 12th February, 1910. He belonged to a very rich family of the Gyeongju Lee clan. His family owned very big chunk of land and were the landlords of the locality. He got early education from local schools of his hometown. He got college education at Waseda University located in Tokyo. But he left college without completing his degree.
Early Career
He left his education due to the death of his father. After his father's death the property and money which he got as the heir of the family, he used those resources to open up a rice mill. He opened that rice mill in his native town named Gyeongnam.
Founder of Samsung Group
His business of rice mill was not successful so he changed the nature of his business. He shutdown his rice mill and this time he opened a new business in Daegu on 1st March, 1938. That business was a trucking company which was involved in providing transporting services. He named that company as Samsung Trading Co. That company was just a sample of the bigger Samsung Group Company present today. The word Samsung explains the initial corporate logos and its literal meaning is "Three Stars".
His business went successful and by 1945 his company's services reached in each and every corner of Korea and also to some other countries. Samsung was at that time based in Seoul. Seoul remained as a base for the company until the Korean War which started in 1950. North Korean Army conquest Seoul and due to that he was compelled to shift his company and business to Pusan. At that time his trading company was included in the largest company's list of trading business. This shifting of company from one place to another proved to be beneficial for him.
In 1961 when the Korean War was over and General Park came into power in South Korea, at that time he was in Japan and didn't want to return to South Korea. His company's deal was stuck with Park's Government which was not happening. He left the control of the company and gave his company's control over the banks which his company acquired. After that event company was run through the orders given from Park's Government.
Samsung Group
Samsung Group is a multinational company of South Korea. It's headquarter is based in Samsung Town, Seoul. It is actually a conglomerate comprising of different businesses. Initially it was started as a transporting and trading company by Lee Byung-chul in 1938. But after its progress dispersed over a few decades, it emerged in different businesses areas like textiles, securities, insurance, food processing, electronics and retail. All its brands came under the logo of Samsung.
There are two main growing subsidiaries of Samsung Group, one is electronics and other one is construction. It joined electronics business in the late years of 1960s and entered into construction area in the mid of 1970s.
Later Years and Other Achievements
Apart from the foundation of Samsung Group he also founded Cheil Sugar in 1953. He also founded many other small companies from the income which he earned from Cheil Sugar. Other companies were related to textiles, cars, insurance, electronics and other consumer department stores.
After that much success he became the richest man of Korea and in his later life he also served in the Federation of Korean Industries as its chairman.
Death
He died on 19th November, 1987 at Seoul, South Korea. When he died he was 77 years of age.