Marcus Goldman Founder of the Goldman Sachs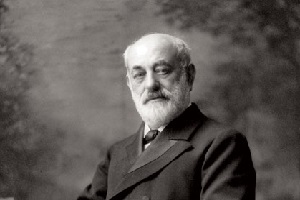 Biography of Marcus Goldman
Early Life
Marcus Goldman founder of The Goldman Sachs was born on 9th December, 1821 in Trappstadt, Bavaria, Germany. He belonged to an Ashkenazi family of Jews. He was son of Wolf Goldman and Ella. His father was a school teacher and a cattle dealer. His family migrated to the United States of America in 1848. His family migrated during Jewish immigration to America, which was a wave of immigration that resulted from the Revolutions of 1848 that occurred in the German States. His family emigrated from Frankfurt am Main Germany to the United States.
Life at the United States
When he arrived in the United States, he started working as a peddler for a horse-drawn cart. After that job he worked as a shopkeeper in Philadelphia. He met Bertha Goldman there, who was an eighteen year old young lady and was also an emigrant just like him from Germany in the same revolution of 1848. He married her at that time.
Founder of the Goldman Sachs
After his marriage he continued to work as a shopkeeper and several years of his marriage passed in that way. In that time the couple had five children. In 1869, he migrated to New York City with his all family members. In New York he settled in a sand house on Pine Street at Manhattan. In the same year he founded his own company with the name of "Marcus Goldman and Co.", and became a broker there.
In the early days of his business, he became very successful by doing transactions of almost $5 million commercial papers worth in a year. He was successful enough but not as much as others companies of the same field, one of them was involved in the transaction of $6 million in a calendar year. So the comparison between these two made him less successful. But as days and time passed by he increased his business and became a successful banker and a broker of his times.
Moreover his younger daughter married Samuel Sachs who was son of his family's close friend and was also a German emigrant of Bavaria. When his daughter married Samuel, he saw an opportunity for him and in 1882; he included his son-in-law Samuel Sachs in his business and renamed his company from Marcus Goldman and Co., to M. Goldman and Sachs Group, Inc.
After the inclusion of his son-in-law into his business, it further expanded and reached the stage of boom. By 1880 this restructured firm was rolling over more than $30 million worth of commercial papers a year. The net worth of the company also increased up to $100,00 which is equivalent to $2.4 million in today's world.
The Goldman Sachs
The Goldman Sachs Group, Inc. is a multinational company of the United States in the field of financial services sector. It's headquarter is located in Manhattan, New York City, the United States. The primary function of this company is investment. This is known as an investment bank engaged in investment engagement, securities, banking, and other these types of financial services on the global level.
Retirement
When he retired, the company was taken over by his son named Henry Goldman and also by his son-in-law who was his partner in a way, Samuel Sachs. Samuel had two sons who also joined that company in 1904. Both of these were Harvard University graduates. After the change of management, the company was registered in New York's Stock market.
Death
He died in 1904 during the days of summer in that year.