Marcus Samuel 1st Viscount Bearsted Founder of Shell Oil Company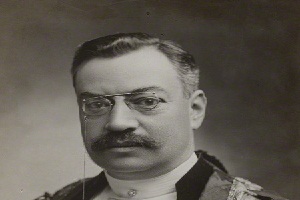 Biography of Marcus Samuel
Early Life
Marcus Samuel, 1st Viscount Bearsted founder of Shell Oil Company was born on 5th November, 1853 in Whitechapel, London. He belonged to a Jewish family that belonged to Baghdad. His father name was also Marcus Samuel. His father was a businessman, and was running a business of import and export with a company named as M. Samuel and Co. That company was engaged in trading with the distant areas of East. His father's that business was carried forward by him and his brother named Samuel Samuel.
Interest in Oil Trading
His interest in oil trading developed from his very childhood because of his father's business in the related field. When he taken over the company of his father, he realized that, there was a great potential of doing business and trading of oil through the Black Sea in 1890.
Founder of Shell Oil Company
His first trip of oil trading was through the Black Sea in the same year. He gave order for the construction of eight tankers dedicated for oil. From them first was named as Murex. That tanker was released under the command of a captain, named Captain John R Coundon. That Captain satisfied all the concerns of the traders by shipping the products with safety at its destination. Its destination was the Suez Canal Company. He shipped the product to different areas of Singapore and Bangkok.
This business became a great success for him and he continued this business and formed an oil company named as Shell, which he formed in 1897. He named his business firm as Shell because of his first business. His first business was of shells. He used to sell the seashells by painting them with different colors.
He merged his oil company named Shell with another oil trading company that was named as the Royal Dutch Company, which was based in Netherlands. After that merger a new company was formed that is today famous with the name of Royal Dutch Shell. M. Samuel and Co. It also had some other mergers later on which included a merger in 1965. That was a merger with Philip Hill, Higginson, Erlangers Ltd., this merger created Hill Samuel. After sometime that was sold and became a part of Lloyds TSB.
Shell Oil Company
Shell Oil Company is a multinational company of the United States in the field of oil trading. It is a subsidiary of Royal Dutch Shell. It comes in the largest companies of the globe in the context of oil trading. It's headquarter is based in the United States with the head office located in Houston Texas. This company included the manufacturing and production of oil and natural gas producers, gasoline marketing, petrochemical producers, and natural gas marketing is also a function of this company.
Other Prestigious Designations
Apart from the foundation of that company he also remained on the different posts throughout his life. In 1891, he was elected for the London ward of Portsoken as an Alderman. He became the Sheriff of the City in 1894, London. He went on to become Lord Mayor of London. That was from the era of 1902 to 1903. For his contribution to London city during the World War I he was awarded with the 1st Baron Bearsted of Maidstone. That was in the County of Kent. In 1925, he was the first to be awarded as Viscount Bearsted. Moreover he was also awarded with an honorary degree of doctorate in the field of Law from the University of Sheffield. He was remained as the Chairman of his company throughout his life.
Death
He died on 17th of January, 1927. After his death the chairmanship was given to his son. The management of the Shell Oil Company was managed by his son named Walter Horace Samuel.
He made an estate for his living which was sold after his death.