Mian Muhammad Mansha Founder of MCB Bank Limited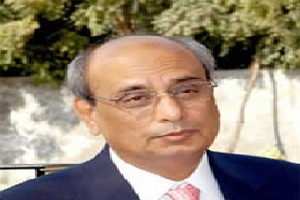 Biography of Mian Muhammad Mansha
Early Life
Mian Muhammad Mansha founder of MCB Bank Limited was born on 1st December, 1947 in Lahore. He belonged to a rich Chinioti family. As he belonged to a very rich family so his childhood was also elite type of thing. He grew up in Faisalabad. After completing his education in an elite manner in very well reputed schools and universities of the countries, he entered into business field without any hindrance.
Debut as an Industrialist
He started his carrier as an industrialist just after completing his educational carrier. He got off the mark by running a textile mill in Faisalabad. That mill's name was Nishat Mills. Nishat Mills still counts as one of the most prominent textile industries of the country.
Founder of MCB Muslim Commercial Bank Limited
The movement of privatization in 1990s by the Prime Minister of Pakistan, a military general, gave so much opportunity to the conglomerate of his family. As he was working on the strategic position of that firm, he made many acquisitions of different businesses under his name. He bought so many companies and some of them were acquired through hostile takeovers. Two most important groups which he acquired were Adamjee Group and D. G. Khan Cement. Adamjee Group was related to the financial services while D. G. Cement was a cement company which was previously belonged to Saigol Family group.
Apart from the successful acquisition of these two groups, he also focused on the expansion of his own textile group of company, Nishat Textiles; during those days that textile mill became the number one fabric mill of Pakistan.
The most important acquisition belonged to his name was the acquisition of MCB Bank Limited, Muslim Commercial Bank. That was his master achievement, because it was the most profitable bank of Pakistan in those days. He acquired that bank in an auction by competing with so many other interested bidders.
After acquiring it, he worked hard for its progress and because of his leadership that bank was able to acquire a distinct place in financial market of Indian subcontinent. That bank was included in the best financial service providers. His leadership and chosen staff for its operations was also included in the management team of premier financial service.
Muslim Commercial Bank Limited (MCB)
MCB Bank Limited is one of the financial sectors of Pakistan. It stands for Muslim Commercial Bank. Initially it was started with the name of Mansoor Co-operative Bank by the Adamjee Group on 9th of July in 1947. It was incorporated as a limited company under the Indian Companies Act, VII of 1913.
It was created to serve the business sector of South Asia financially. After its opening, it went nationalized in 1974 by the government of Zulfikar Ali Bhutto. It was again privatized when the government was changed and this time it went into the hands of Mian Muhammad Mansha, the leader of Nishat Group.
It went through the period of expansion and success under his leadership that is the reason he was named as its real founder. He is the Chairman of the MCB group and Nashat Group.
His Achievements and Current Situation
He is a business tycoon of the Pakistan's industrial sector. He is included in the boards of almost 46 different companies of Pakistan. He is also regarded and included in the list of influential and powerful personalities of the country. On 23rd March of 2004, he was awarded with a civil award named Sitara-e-Imtiazbt the President of Pakistan of that time, General Pervez Musharraf.
His textile company, Nishat Mill is the largest importing mill of Pakistan.
He became the first Pakistani rich person to be included in the list of the World's rich men in Forbes. He was awarded a slot at 937th Position as the world's richest person. His net worth was $1 Billion in that year and till today he is the only billionaire to be listed in Forbes from Pakistan.
Involvement in Other Businesses
Apart from the industrial sector of Pakistan, he has also some interest in other sectors. He is also an owner of the Pakistan Aviators and Aviation Ltd., a domestic charter plane service in Pakistan. He is also the owner of the Mayfair, a London-based St James's hotel and club.