Muhammad Yunus Founder of the Grameen family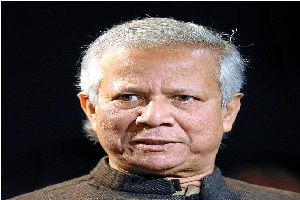 Biography of Muhammad Yunus
Early Life
Muhammad Yunus founder of the Grameen family was born on 28th June, 1940 in Hathazari, Chittagong, Bangladesh. At that time this came under the British Raj Bengal Presidency. His father HaziDulla was a jeweler in a small village named Bathua. He lived his stage of childhood at his village. His family migrated from village to the city of Chittagong in 1944. He started his early education from his village school but when he moved to city he joined Lamabazar Primary School.  He did his matriculation from the Chittagong Collegiate School, East Pakistan. He was very active in those days and travelled to India, West Paksitan and Canada for different activities and festivals. After his matriculation he went to Chittagong College for higher studies. He completed his BA in the field of economics in 1960 from the Dhaka University. Following his bachelor's degree he did his masters in the same field from the same university in 1961.
Interest in helping people, A Good Cause
He worked for the improvement of loan systems. At that time only rich people were getting loans from bank and poor people suffer from poverty and were unable to borrow money from bank for starting their own business. He did efforts for providing them loan for their business which was a good cause of business.
Founder of Grameen family
He secured loans to provide them to poor people from Janata Bank in 1976. This bank succeeded as more and more loans were given and recovered and on 1st October, 1983 it was renamed to Grameen Bank and from this the conglomerate came into existence with the name of the Grameen family of organizations.
Grameen family
Grameen is a conglomerate based in Bangladesh with so many companies working under this name which included funds, telecom, communication services and so many other companies and trusts. He had the honor for introducing Microfinance system of banking.