National Council Licensure Examination (NCLEX)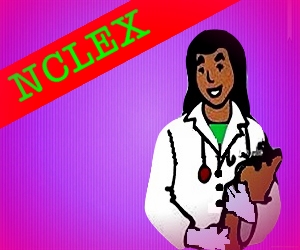 Are you in a need to get nursing license then National Council Licensure Examination is for you? Then this credential is surely designated for you. NCLEX is an examination started in 1994. It is co-sponsored by National Council of State Boards of Nursing (NCSBN).The major drive behind is to give licensure to nurses. It allows the candidates to practice nursing where she or he meets the requirements.
Eligibility: Recent graduates from recognized school of nursing are invited along with fluency in English is required.
Levels of Examination: NCLEX is divided into two levels listed below:
National Council Licensure Examination-Registered Nurse (NCLEX-RN): All Boards of nursing in the states and in territories allow candidates to pass this exam. All questions cover five steps: assessment, analysis, planning, intervention, implementation and evaluation. RNs have six hours to complete the exam.
National Council Licensure Examination-Registered Nurse (NCLEX-PN): All U.S. state and territorial boards of nursing want candidates to pass this exam in order to get Licensed practical nurse (LPN). PNs have five hours to complete the test.
How NCLEX-RN is different from NCLEX-PN? Registered nurses (NCLEX-RN) formulate treatment plans and administer care whereas vocational or practical nurses handle more care tasks. Secondly, the most important difference lies in the test content. RNs have to create care plans and to evaluate patients and PNs have to collect patients' information and support care plans. The former one deals with care management and the latter one deals with health care coordination.
Exam Content: Both exams are almost same in structure. Exam is based on the four sections listed below:
Safe Effective Care Environment (Includes Management of Care and Safety and Infection Control): This section contains question from 21 to 33 percent of questions. It covers the safety issues, patient's administration mainly with pediatric and psychiatric problems.
Health Promotion and Maintenance: This section covers areas of pregnancy, infections, sexually transmitted infections, and newly born children health. Approximately 12% of the examination is covered through this section.
Psychosocial integrity: This section covers psychosocial problems like eating disorders, anxiety and personality disorders, Schizophrenia, mental disorders like dyslexia etc. Approximately, 12% of the examination is covered through this arena.
Physiological Integrity: (Includes Basic care and comfort, Pharmacological and parental therapies, reduction of risk potential and Physiological Adaption): This section deals with adult medical and surgical care. Approximately 43-67% of the examination is covered on this section.
Exam Facts: Below listed associations are surely helpful:
NCLEX follows Computer adaptive testing (CAT) and contains multiple-choice questions.
A candidate will get "Pass" or "Fail" rather than specific scores or grades within 48 hours.
Exam is offered a full week i.e. Monday to Saturday throughout the year.
In case of failure, candidate may appear in exam again after 45 days he/she took the last exam.
Fee per level (PN or RN) is $50 whereas registration fee for seeking U.S. licensure is $200 USD.
How to get registered? To get registered, follow certain steps:
Once your eligibility will get declared by Board of Nursing/Regular Body (BON/RB), you will get Authorization to test (ATT) e-mail. This e-mail is a must in order to get registered for NCLEX program.
The validity period of ATT e-mail is 90 days only.
Onwards, go to Pearson VUE via Perasonvue.com as NSBN has assigned Pearson VUE to schedule exam.
Exam can be taken at Pearson VUE test centers in every state throughout the U.S. and worldwide.
How to get Prepared? It is a rigorous examination and to pass that, proper preparation is required.
Be a hardworking nursing student by recalling the memory whatever you have learned so far.
Grasp the test-taking strategies via official site.
Online modules are available for the student in order to practice.
Consult your nursing school in order to take a test preparation course.
Contact Details: International candidates may call at 01113125253600
Phone (toll free): 866.293.9600
E-mail:nclexinfo@ncsbn.org
Website: For more details, do visit https://www.ncsbn.org/index.htm