Philo Farnsworth Inventor of Electronic Television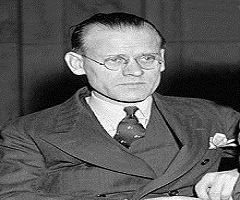 Biography of Philo Taylor Farnsworth
Early Life
Philo Taylor Farnsworth inventor of Electronic Television was considered as the most important scientist of television industry and was a pioneer of the field. He was one of the early scientists who worked for invention of electronic television. He was born in the year of 1906 on August 19th in Beaver, Utah in United States of America. His parent's names were as Lewis Edwin Farnsworth and Serena Amanda Bastian. He was their eldest child of five children. His parents moved to a farmhouse when Philo was young in age and had their own house. That was the place where he started to build his own craze of electronics and other such things in the way that a bit of facilities were available there.
Initial Work
That farmhouse in Idaho was having the facility of electricity as it was wired out with one generator. He started to study mechanical and electrical technology there as he repaired some of the faulted generators and other such machineries. He found some electric motors which were out of order. That motors were thrown there by old residents and he started to think that how can he use it. Later on, he used the motor in the way that he turned a hand using washing machine which was used in his own home, into an electronic one by adding that motor to the machine.
Inventor of Television
Philo Taylor Farnsworth was neither a born scientist nor he had any plan to invent such great thing. This thing happened like this, as it was year of 1921 and he was just 15 years old, he had already starting working in electrical and mechanical technology field as mentioned earlier. He started working for something bigger and it took six years for him when he came up with a great point. At the time, he was just 21 years of old, when he invented a video camera tube which was capable to scan an image in the way that a series of line came up in the back and forth or to and fro motion. This invention later on led him to the invention of first electronic television.
Electronic Television
Though working on something like television had started a long before and it can be said that many things like this had already been invented. But as far as the first formal and professional electronic television invention is concerned, its credit goes to Philo Farnsworth. Television is an electronic device which is used to convert different images e.g. visual including sound in form of electric signals. These signals are later on transmitted through any medium and later on can be seen on a screen which will be called as a television. It is generally just a device which receives these signals from the air in order to show them in the original form, from which it was converted. It generally shows that what is happening somewhere in the form of sound and video. It can be said as one of the most influential and important inventions of the twentieth century.
Death
He died in the year of 1971 on March 11th due to pneumonia. He was almost 65 years of age at the time of his death.