Samuel Moore Walton Founder of Walmart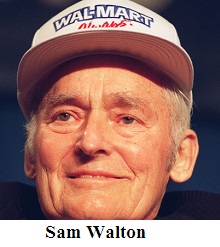 Biography of Samuel Moore Walton
Early Life
Samuel Moore Walton founder of Walmart was a very famous businessman of United States of America in 20th century. He was born in Kingfisher, Oklahoma in United States of America in the year of 1918 on March 29th.  His father Thomas Gibson Walton was a mortgager by profession. His family migrated from Oklahoma to Florida when he was very young. He was admitted in Shelbina School for his earlier education and he was a very well known eagle scout in very young age. After his early education, he was enrolled in university of Missouri for further education.
Interest in Business
Sam Walton was very much interested in studies and he didn't have any proper interest in business. The financial problems of his family led him to get interest in business in very young age. His family was facing serious financial problems after changes of professions made by his father. In very young age, he used to milk his family cow and sold its milk putting it on cycle to his customers and in this way tried to meet up with the financial issues faced by his family. This thing raised his interest in business and he started to sell newspaper named as Columbia daily tribune on a paper route.
Founder of Walmart
Sam Walton's interest in business was not letting him to sit down and it was leading him to be a very well known businessman. After his earlier studies he joined army for sometime but after reaching the rank of captain he left army as it was not fulfilling his inner wishes and values. As a result he inaugurated his first variety store in the year of 1945 when he was just 26 years of age. He got a loan of 20000$ from his father in law and utilized his own saved 5000$ in army days. He opened his first store in Arkansas which was base of a new store chain.
Walmart
Walmart was founded by Samuel Moore Walton in the year of 1945 with its first office in Arkansas. Presently Walmart is a multinational retail based chain of stores having billions of customers all around the world. The Walmart is the second largest discount store chain of the world with thousands of stores and employees in the whole world. In the decade of 1980 to 1990, this company became an international giant when it was launched in many other countries.
Death
Sam Walton died in the year of 1992 on 29th March in Little Rock Arkansas, USA. At the time of death, he was almost 74 years of age.