Scholarship Application FAQs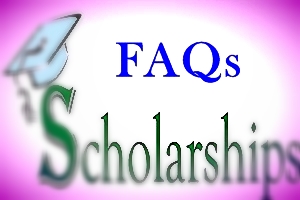 Researchpedia.info has provided answers of most frequently asked questions about scholarship application to assist our visitors.
Are there scholarships program for particular field of study?
There are scholarships for particular field of study and for different nationalities. The main thing is to find them. In researchpedia.info, you will get scholarships programs categorized in an efficient way. What you need to do is to click on a specific area of study to see the complete list of available scholarships according to your requirement.
Some of the students often seem perplex about Eligibility criteria for scholarships?
The eligibility criteria are different for every scholarship program. It also varies on the level of study. For getting scholarship, you must be proficient in English speaking, must be having good academic record, your participation in other curricular activities also play a vital role. On the other hand, don't forget to consider the eligibility requirement of the specific program of study, you are about to apply.
How does one can apply for scholarship?
Very common, just follow the scholarship application instructions carefully offered by provider or University. The instructions are generally described vividly, so no need to be confused. Just follow all the instructions step by step. Only provide the information demanded by scholarship provides, no need of becoming extra efficient.
Best time to apply for scholarship?
An ideal time to apply for scholarship is within the application deadline offered by provides. Generally, scholarship application ought to be done in six months to one year earlier than the scholastic year you intend to study.
Are scholarships offered on yearly basis? In case, I missed it this year, can I apply for it in coming year?
Majority of scholarships are offered on yearly basis, but it is always rely on the scholarship providers and University that whether they have sufficient funds for their offered scholarship program.
What to do if application form is not available at the website of the scholarship provider?
The scholarship application form is always present at the website, but there are some reasons why it is unavailable. One of the major reasons could be that the scholarship deadline has been passed, so it is no more available to be applied. One reason is that a few of the scholarship websites don't offer the link to application form. In this situation, you need to search out different resources to get the application form. Moreover, don't forget to look at the sidebars, might be you will find application link over there. If you still face any issue in downloading the application form, then request for the link via message or comment.
How do you compose the scholarship essay?
If the scholarship provider offered any format, then follow that format strictly. In case, they haven't offered any format or way, then you can follow the simple outline. However, always make your application precise by offering it motivational touch. Your background, intentions for studying, academic record, courses, your future plans and expectations of the course etc should be in your scholarship essay. Moreover, don't forget to mention why you need that particular scholarship as well as explain why you deserve it.