Sir Adamjee Haji Dawood Founder of Adamjee Group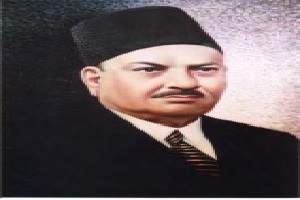 Biography of Sir Adamjee Haji Dawood
Sir adamjee was basically Philanthropy and businessman. And he was British Indian by nationality when the subcontinent was not separated but after separation he becomes Pakistani. And he played a very important role in establishment of Pakistan.Sir Adamjee Haji Dawood founder of Adamjee Group was born on 30th June, 1880 in Jetpur, which was a little town of Gujarat, the British India. He belonged to a Memon family of British India and was very wealthy traders within the British Empire and also in some other countries of the world at that time.
Entry into the World of Business
He entered into the field of business in very early ages of his life. He started his own business in his teen ages with trading of different agricultural products of his locality. He started his business from agricultural sector because at that time there was no or less industrialization in the British India.
Founder of Adamjee Group
The initial traces of Adamjee Group are found from the formation of a business in Burma. He initially started his business in rice, trading of jute and matches. His business succeeded because of his keen interest in business and his intellectual mind.
After initial start he accumulated enough resources and financial backing he entered into the market of commodities and created his first industry in 1922 and that was a match factory which he established in Rangoon which now known as Yangon. He then turned to his next factory which was a jute mill and he established that mill in 1927 at Calcutta. That mill was named as the Adamjee Jute Mills Ltd. Overall in British India that was the third jute mill and was the first by a Muslim industrialist. He and another industrialist who was the founder of Birla Jute broke the monopoly which was established by the East India Company in British India.
These all companies and factories combined together and formed an empire of industrial group which is known in today's world with the name of Adamjee Group.
Contributions for Pakistan
When Pakistan was established funds were not present in order to run newly established Pakistan in that situation Adamjee paly his role and funded Pakistan. If he didn't support Pakistan at that time then Pakistan shall be unable to reach this point where it is now. He played a very crucial role in survival of Pakistan.
Adamjee Group
Adamjee Group is a conglomerate company of Pakistan. There are different companies and industries which are the part of this conglomerate. Almost 50 years have been passed since its formation by Sir Adamjee Haji Dawood. Initially there were two industries in this group which were a match factory and a jute mill but evolved into a diverse business portfolio. Today there are a number of companies which came under the umbrella of Adamjee Group. Some of them are Adamjee Engineering Limited, Adamjee Polymers Limited and so many other companies of different fields.
Social Services
Apart from the business field he was the man with a soft heart full of care for humanity. For the sake of mankind he did so many works of philanthropy. His philanthropist works involved so many foundations and schools for poor and needy people.
He was also invited by Quaid e Azam Muhammad Ali Jinnah after the formation of newly born Islamic State Pakistan for establishing the State Bank of Pakistan. He and his sons founded so many companies after the formation of Pakistan in both East and West Pakistan. But during the process of Nationalization in the era of democratic leader Mr. Zulfiqar Ali Bhutto, his sons lost a great portion of industries in West Pakistan.
Death
When he was invited by Quaid e Azam Muhammad Ali Jinnah for participation in the development of State Bank of Pakistan in 1948, there was a meeting held between them on 27th of January, 1948. In that vary meeting he passed from a fatal heart attack and due to that attack he was admitted at a hospital. But his life didn't favor him and he died on the night of that day. After his death his sons took over the charge of the great conglomerate.