Victoria University PhD Scholarships 2017 for National / International Students in New Zealand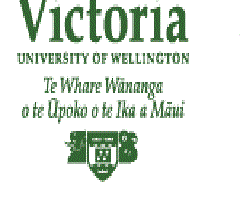 PhD Scholarships 
Fully Funded Scholarships for National / International Students 
2017 / 2018 Scholarships in New Zealand
Victoria University PhD Scholarships 2017
The Victoria University of New Zealand is offering scholarships for International students. These scholarships are for those students who want to pursue their PhD degree studies in Victoria University. These scholarships are aiming at applications from highly intellectual students from developing countries and local students from within New Zealand.
Field of Study / Subjects
Applicants can choose any field for their PhD degree study program, which are offered under this scholarship program.
Other latest Scholarships in New Zealand are also offered for different degrees and subjects all over the New Zealand.
Number of Scholarships
The number of awards is specified as 35 awards per year under this scholarship program
Duration of Scholarship
The duration of award is specified as up to 03 years.
Scholarship Description / Details
This scholarship is offering incentives and grants for the grantees of this program, which are given as follows:
The grantees of this scholarship will be awarded with a yearly allowance in order to meet up their expenses
The value of the yearly allowance is up to 23,500 dollars
In addition to that, scholarship will also cover the tuition fees of the students
Eligibility Criteria           
In order to be considered as eligible for the scholarships offered by Victoria University, applicants should possess following eligibility criteria:
Applicant should be from any developing country with a valid passport
Applicant should be an outstanding academic achiever as these scholarships are based on academic merit
How to Apply / Download Scholarship Form / Documents Required
Applicants, who want to apply for the scholarship offered by the Victoria University:
Attached documents:
Research proposal summary
Brief Curriculum Vitae
Certified copies of academic transcripts from institutions other than Victoria
Academic referees provided with report form and advised of due date
Consent to disclosure of information signed
Contact us:
Position: The Scholarships Office
Organisation: Victoria University of Wellington
Address: PO Box 600 Wellington 6140 New Zealand
Phone: +64 4 463 5557
E-mail: scholarships-office@vuw.ac.nz
Last Date to Apply: 1st March, 1st July, 1st November (annual)
Official Website: Just go the following link for more details
http://www.fis.org.nz/BreakOut/vuw/schols.phtml?detail+100008