William Clement Stone Founder of Aon plc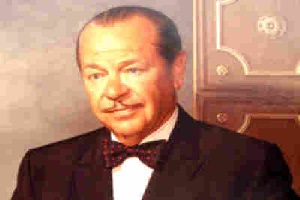 Biography of William Clement Stone
Early life
William Clement Stone founder of Aon plc was born on 4th May, 1902 in Chicago, Illinois, United States of America. His family was in debt when his father died in 1905 when he was just 3 years of age. This debt compelled him to work early in his life and in 1908 he used to hawk newspapers on the South Side of Chicago. At the same time his mother worked as a dressmaker for livelihood. He worked hard and owned a newsstand in 1915. After three years in 1918 he used to sell causality insurance in Detroit. He was a philosopher, businessman and author.
Interest in Insurance and law
His working life was overlapping with his educational life so he sacrificed his school life and dropped out of school. He used to sell insurances all time. He later on got education from the Young Men's Christian Association Central High School, Chicago and completed his education. He also got education of law from two universities i.e. Detroit College of Law and Northwestern University.
Founder of Aon Plc
This Company was founded in 1982 when a company of America under his leadership with the name of the Combined Insurance Company of America merged with a company of England named as the Ryan Insurance Group.
Personality:
He was a kind hearted man and cannot see others in pain. So for this purpose he used to give charity to the needy people. As he faced a hard life and he has to work very hard in order to cope up with the requirement. And his vision was that he wanted to change world.  
Aon Plc
Aon plc is a multinational company of England in the field of financial services. The headquarters of this company is located in London, England. The services provided by the company included risk management insurance and reinsurance brokerage, outsourcing services and human resource solutions. There are almost 500 offices of the company throughout the world in 120 countries with human capital of more than 65k employees working all-around the world.
As far as ranking is concerned this company is ranked as the largest company of the world in terms of insurance broker revenue in the year of 2011. The headquarters of the company was shifted to London, England in the year of 2012.
Death
He died in Evanston, Illinois on 3rd September in 2002.