Certified Fraud Examiner (CFE)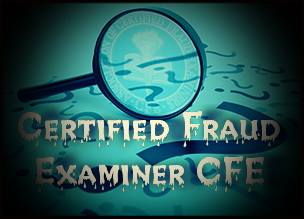 What is Certified Fraud Examiner?
It is a product of Association of Certified Fraud Examiners (ACFE). It is a world's largest organization giving anti-fraud education. CFE recognizes fraud with the huge understanding of law, methods and the ways to resolve fraud.
Eligibility Criteria
ACFE recognizes below-listed academic and professional qualification:
A Bachelor's degree OR recognized from Higher Education.
Two years of professional experience in Accounting and auditing, criminology, sociology, fraud investigation, security knowledge and law.
About Exam
CFE exam contains 500 questions. The credential is further sub divided in four sections.
Fraud Prevention and Deterrence: Evaluates knowledge regarding fraud commission and the ways to prevent it.
Financial Transactions: On the basis of fraudulent transactions in accounting records.
Fraud Investigation: Includes interviewing, gathering information from public records, tracing and report writing.
Legal Elements of Fraud: assess candidate's knowledge related to expert witness matters, law, rules of evidence and civil law.
Fee Criteria
CFE exam cost is US $350. If a candidate utilizes CFE Exam Prep Course of $945will get $100 in return, that means the exam fee will be deducted from $350 to $250.
How to apply?
To get registered, follow two steps:
A candidate may apply online at acfe.com
A candidate may download CFE exam application in PDF format or mail at exam@ACFE.com
How to get certified?
You are just a five step away from getting the credential:
Be an active member of ACFE that is a requisite for exam.
Get yourself prepared for exam by studying CFE Exam Prep Course and attending CFE Exam Review Course.It's helpful to buy international version of exam course.
Submit the CFE Exam application along with proof of your education and three CFE Candidate Recommendation forms to Certificate Department.
Pass out the CFE exam by grasping all four sections. It is a must to request the exam activation key.
Once you passed the exam, gain final approval from certification committee and become the holder of CFE.
When to take Exam?
CFE exam is administered through your own computer. All the candidate has to submit the application with complete documents. The process takes 3-5 business days. Once the application gets completed, you will get an e-mail from Certification Department. Application is valid for 2 years only.
Contact Details: In case of any confusion and question call at (800) 245-3321.
Fax: +1 (512) 276-8180
Surface Mail:
Certification Department
Association of Certified Fraud Examiners
Global Headquarters – The Gregor Building
716 West Avenue
Austin, TX 78701-2727
USA
Website: www.acfe.com