Certified Management Accountant (CMA)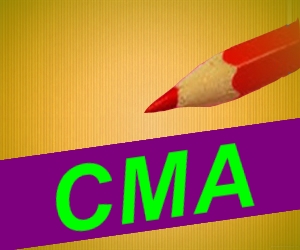 What is Certified Management Accountant?
Being a globally recognized credential, it is a cutting-edge certification designed for prospective accountants and financial specialists in business. It evaluates professional knowledge in certain areas more likely business ethics, management, financial control and planning as these skills are required globally.
CMA's Worth
Going through the description, it weighs the mastery in finance. CMA is a prestigious, professional, rigorous, empowering and competent credential that gives prospective holders a well appreciated salary.
Eligibility Criteria
To get eligible, a Bachelor's Degree in Accountancy along with 2 years' Experience in Management accounting is demanded.
About Exam
CMA's exam is a two-fold story as it has two parts taken in any order.
It is a four-hour exam with 100 MCQs and 2 half hour essay question.
First part deals with the understanding of a candidate regarding professional and business ethics, planning, controlling, forecasting and internet controls.
Second part deals with risk management, corporate finance, investment decisions and professional ethics.
Candidates are supposed to pass part 1 and 2 within the time span of three years.
A candidate has to pass one part at a time and proceed for second one onwards.
For exam preparation, visit: http://www.imanet.org/cma_certification/current_cma_candidates/flexible_study_options.aspx
How to get registered?
CMAs all exams are CBT based. To get enrolled, follow below-listed steps:
Sign up at IMA imanet.org
Pay CMA entrance fee and get hold of CMA Exam package.
Select exam you intend to apply for and file a registration form and pay required fee later on.
Receive the registration form containing allocated number, Testing window, necessary information and instructions.
Schedule exam with Prometric prometric.com
Get appeared for exam along with required documents.
Fee Criteria
| | | | |
| --- | --- | --- | --- |
| | Entrance Fee | Exam fee | Prometric Rescheduling fee |
| Professional Members fee | $240 | $395 | $50 |
| Student Member Fee | $120 | $296.25 (per part) | $50 |
| Academic Member Fee | $120 | $197.50 (per part) | $50 |
Where to go for exam?
CMA exam is administered through Prometric testing centers. They are available according to the local customs. Go for the best location near to you. For more details, visit: www.prometric.org
Retaking Exam
CMA exam requires 3 years to pass. If a candidate don't pass in the required time span then it will get expired. In order to retake, new registration along with appropriate payment is required.
Prospective Salary
Reviewing IMA's salary survey, CMAs earned $59,430 in 2008 which is getting higher day by day approximately $102,380.
Contact Details: Call +1(800)638-4427 or +1 (201)573-9000 in any confusion.
Email:webmaster@imanet.org
Website: http://www.imanet.org/cma_certification.aspx