Diet or Exercise which is better for your Heart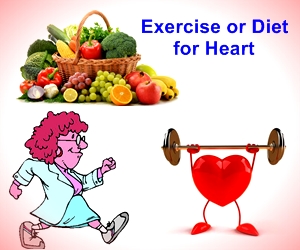 Exercise and Health
If your lungs haven't crashed yet, your muscles have all the strength in this world because they are not flabby and weak, you are always brimming with energy and most of all if that pumping machine right in the center of your chest, your heart, is still doing it's job you ought to thank that very moment you decided to exercise regularly.
Alternate of Exercise
No doubt there are zillion benefits of exercise from preventing all those menacing diseases to keeping us healthy, happy and active. But what if you are told that there is something which yields much better results for keeping a heart healthy than exercise?
The news is going to be a treat for all the cardiac patients out there, for the food lovers and for the people who simply hate to workout. Cheers slackers!
Being physically active is important to prevent heart disease and stroke, but why bother moving a limb when you can achieve more beneficial results by just changing your diet? (Of course, that doesn't mean you being glued to your bed and eating for the rest of your life.)
Heart Healthy Diet
Yes dear readers, your diet! If you're looking for a heart-healthy eating plan, the Mediterranean diet might be the right choice for you. The native cuisine of Greece, Spain, or Southern Italy.
Mediterranean Diet
In past, time and again doctors, scientists, and nutritionists alike have highlighted the importance of Mediterranean diet and considered it as an ideal way of eating and a key to longevity. Now they have a conclusive proof of all that was being said about the diet for ages.
Reduces the risk by half
According to a study to be presented at the American College of Cardiology's 64th Annual Scientific Session in San Diego, following a Mediterranean diet could reduce your risk of heart disease by at humping 47 percent, beating out exercise in this regard.
Results of Study
Researchers from Harokopio University in Athens, Greece tracked 2,500 Greek adults, ageing from 18 to 89 over a decade.
 By the end of the study 20 percent of the men and 12 percent of the women who took part in the study developed or died from heart disease.
Overall, those participants who stuck to the Mediterranean diet were found to be 47 per cent less likely to develop heart disease than those who did not.
Diet better for heart than exercise
The study also found that women tended to follow the Mediterranean diet more closely than men. Profoundly interesting was the result that adherence to a Mediterranean diet was more protective against heart disease than exercise
Researchers Opinion about Study
"It also reveals that the Mediterranean diet has direct benefits for heart health, in addition to its indirect benefits in managing diabetes, hypertension (high blood pressure) and inflammation."
For every gender and age group
"It shows that the Mediterranean diet is a beneficial intervention for all types of people—in both genders, in all age groups, and in both healthy people and those with health conditions." said Ekavi Georgousopoulou, a Ph.D. candidate at Harokopio University in Athens, Greece.
Easily Obtainable Food
"Because the Mediterranean diet is based on food groups that are quite common or easy to find, people around the world could easily adopt this dietary pattern and help protect themselves against heart disease with very little cost"
Previous researches have linked this mighty diet with it's roles of reducing the risk for diabetes and lowering blood pressure but this study was first to monitor heart disease in the general population over the course of a full decade.
Eyebrow Raiser's of the Study
It was admitted by the researchers that the study was limited to Greece in Athens area and other countries might not reflect the same pattern.
But they did point out that urbanized Greeks were eating a more western diet, similar to that of Americans.
 Having said that other studies have also shown that the Greek and American rates for developing heart disease are very similar. So it would be ok to assume that the similar study with Americans might give the same results.
What is Mediterranean Diet?
All the non-Europeans reading must be wondering by now what does Mediterranean diet consists of? Mediterranean diet consists largely of fresh fruits and veggies, olive oil, fish, beans, nuts, and unrefined grains. A balanced, heart healthy and easily accessible diet.
Get Started
Try not to think of it as a "diet," which can sound rigid and laborious. Focus on all the wine and fish you can have.
If you are already into Mediterranean diet, Good going! If you aren't it's high time to consider a switch. Do that, and you'll set yourself up for long-term health.
Resources:
https://www.yahoo.com/health/the-diet-thats-better-for-your-heart-than-112715274652.html
http://www.independent.co.uk/life-style/health-and-families/mediterranean-diet-better-than-exercise-at-preventing-heart-disease-regardless-of-your-age-or-gender-study-finds-10088468.html