Frederick W. Smith Founder of FedEx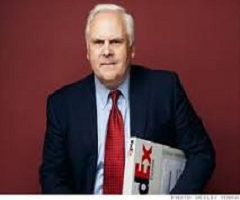 Biography of Frederick W. Smith
Early Life
Frederick W. Smith Founder of FedEx Express is a famous American businessman and entrepreneur. He bore in the year of 1944 on August 11th in Marks, Mississippi in United States of America. His father's name was James Frederick Smith who was the founder of Toddle house which was a famous restaurant chain of USA at that time. He started his early education in his local town school named as Presbyterian day school in a very young age. Later on for formal education, he joined Memphis University School from which he got his secondary school certificate. After that, he joined Yale University for his further education in field of Economics. After some time, he wrote a paper about economics which is later on said to be the idea behind FedEx Express.
Initial Career
He earned his bachelor's degree in the field of economics in the year of 1966. After his education completion, he had to start his own career as he was thinking of it. For first career start, he joined Marine Corps service of Untied States and served in it for almost 3 years. He left the MCS in the year of 1969 and stated working as a forward air controller also said as FAC.
Founder of FedEx Express
Frederick W. Smith is widely credited as founder of FedEx Express. After his initial career in Marine Corps service he started his own business in the year of 1970. In the following year, he purchased some interest shares in an aircraft maintenance company named as ark aviation sales. After that, he turned his focus to trade in used jets and for this purposes he founded Federal Express Corporation in the year of 1971. Initially the company faced some losses but due to hard work of Frederick, company became the well known company of this sector.
FedEx Express
FedEx Express was founded by Frederick Smith in the year of 1971. The company was founded with its first office in Little Rock, Arkansas and with the name of Federal Express Corporation. The main idea behind this company was of trading in used jets and in this regard the company was founded. Initially company was founded by investing 23 million United States dollars of present time. The company raised almost 91 million dollars as its business in aircraft's and jets. Generally FedEx Express is a transportation and package transport sector company with its branches in more than 50 countries all over the world including Brazil, Argentina, Austria, Chile, Ecuador, India, Portugal, Peru, Belgium, Switzerland, Spain, Ireland, France, Italy, Netherlands, UAE and Mexico. Presently this company has the 160,647 employees working with it and its head quarter is in Memphis, Tennessee in United States of America. The employee growth of Accor is about 6% with global revenue of 26.5 billion United States dollars. It was ranked firstly in the best place to work in the year of 1984.
Present Situation
Presently He is living in his hometown in Marks and is about 70 years of age.