Glenn Bell Founder of Taco Bell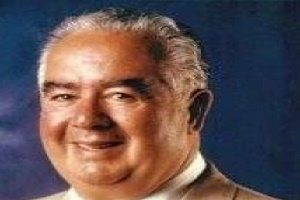 Biography of Glen Bell
Early Life
Glen Bell founder of Taco Bell was born in Lynwood, California, United States of America, on 3rd September, 1923. He grew up in California. During World War II, he served in Marine Corps of United States. In 1946, he left military services and returned back to California. There he started up his own business.
As a businessman
After leaving Marine Corps he opened his hot dog stance for the first time in 1948 in San Bernardino with the name "Bell's Drive-In". That business was not giving satisfying results for him. So after several years he sold out the hot dog stand and started another stand. In that stand he was offering hamburgers and hot dogs to his patrons.
Founder of Taco Bell
He always tried to play with menu and introduce new variety items in it. After some progress of his hot dog and hamburgers stand, he introduced new item in his menu which were tacos. He used to sell them at 19 cent per piece from side window. With this new menu he continued his business for several years. And in the years 1954 and 55, started 3 "Taco Tias" in the area of San Bernardino. After that he also sold them and opened 4 "EI Tacos" in partnership with another person in the area of Long Beach.
After sometime in 1962, he decided to end up that partnership and start with sole proprietorship. He sold his ownership to his partner. So everything was set for him to start from scratch. He has the experience and know-how of food market. He started his first "Taco Bell" in that year.
Taco Bell
Taco Bell is a Mexican food restaurant initiated by Mr. Glenn Bell. It offers a great variety of food. Its basic item was taco that's why its name was proposed as "Taco Bell". It was the first time that Mexican food was introduced throughout fast food restaurants in United States. That happened because of the creation of such type of restaurant.
Later Life
Taco Bell became very famous as nation's important and leading restaurant in serving Mexican style food. Then a chain of restaurants of Taco Bell started to build all over the United States. Eventually in 1964, he changed its model of restaurant into franchise system. After so much success, there were 868 restaurant chains were found. Finally in 1975, he resigned from the seat of Chairman of the Board. And three years later, for a handsome amount of 125 million dollars, he sold that restaurant chain to PepsiCo in 1978.
Death
Mr. Glenn Bell died on 17th January, 2010, in Rancho Santa Fe, California. When he died, his age was 86 years. The causes of his death are still unknown. His family included his wife Martha, three sisters, a daughter, two sons, and four grandchildren.