Herman Lay Founder of PepsiCo Inc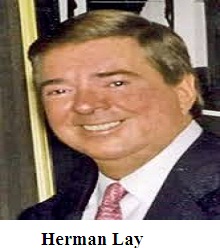 Biography of Herman Lay
Early Life
Herman Lay founder of Pepsi Inc was a famous business tycoon of America. He was born in the year of 1909 on March 6th in Charlotte, North Carolina in United States of America. His father Jesse N. Lay was working for international harvester. His family moved to Columbia, South Carolina when he was very young. He studied at his home first and then attended the local school but again after some years his family migrated to Greenville in South Carolina. The repetitive migrations didn't let him to continue his education properly but somehow he managed to get admission in Furman University by getting a grant of a sports scholarship but he couldn't complete his bachelors and left the university after sometime.
Interest in Business
Due to his family's financial problems, he started work in very young age. He started his career in a biscuit factory named as Sunshine biscuits but he was fired from there for improper behavior. After that, he started his own business of selling potato chips to customers which later on led him to founding of a famous chips company. His interest in business was the main thing which let him to be the co founder of PepsiCo Inc.
Co founder of PepsiCo Inc
Herman Lay is widely credited as the co founder of PepsiCo Inc. with Donald M. Kendall. After sudden failures of his jobs and businesses, he visited Pepsi Cola Company once due to some work and during this visit he met Donald Kendall. These guys became good friends as both had the same interests of business. They discussed some ideas with each other and selected one best idea which was suiting them with ease. As a result, both of these guys founded the PepsiCo Inc. in year of 1965.
PepsiCo Inc
PepsiCo Inc. was founded by Donald M. Kendall and Herman Lay in the year of 1965. Formerly it was a local brand company which was founded by their inspiration from Pepsi cola but soon due to its quality products it left behind the Pepsi Cola and became and international brand. This is a multinational company at the times producing numerous types of drinks with Pepsi as the most popular and famous among them. Donald Kendall was the first Chief Executive officer of PepsiCo Inc. from its founding year to just a decade ago.
Death
Herman Lay was a very famous business tycoon of United States and his business was not just limited to PepsiCo Inc. He died in the year of 1982 on December 6th in the age of 72 years.