How to Write Resignation Letter?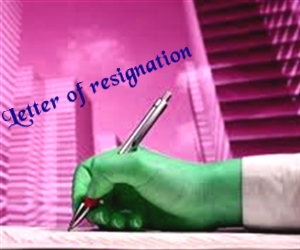 Resignation letter does not mean to just say that I do not work anymore or I want to quit. There is proper rules and format for everything in life and same case in resignation letter. Workers have to follow certain format while giving resignation letter to officials. Therefore, below we will discuss about format of resignation letter that how to write it plus which things anybody need to mention in a resignation letter. The following pattern of resignation letter format will show you that what to write or mention in your letter of resignation. However, your resignation letter should be brief that means to the point and factual. Basically state that you are resigning from the job and give the date of your resignation will be of use.
Resignation Letter Proper Format: Follow below given format and write your resignation letter properly.
Your Contact Information (Organization Contact Information)
First and Last Name of company
Do not forget to mention this and please be careful while writing devoid of any spelling mistakes
Address
Give complete present address of organization from where you want to resign.
City, State, Zip Code
Do not forget to mention State name, Zip and city name of company as it is imperative part of resignation letter
Phone Number
Worker who is going to resigning need to give phone number of that in resignation letter.
Email Address
Provide E-mail address as well
Date
Do not forget to mention the date of resigning
Employer Contact Information
Name
Employee Full and Last name
Title
Organization
Name of company or association where he/she was working
Address
Employee Complete Present Address
City, State, Zip Code
Salutation/Acknowledgment
Dear Mr. /Ms. and Last Name
First Paragraph of Resignation letter will cover certain information: Resignation letter first paragraph of worker should cover that he/she is resigning from the job and also state when your resignation is effectual.
Middle Paragraph of Resignation Letter is all about: Middle Paragraph normally contains next and optional section of your resignation letter should be about thank you for the opportunities, you have had during your employment time period with the company. Moreover, worker can add their best experiences he/she enjoyed and gain while working in that company or organization. Well things do not end here as last paragraph is much important.
Final Paragraph of Resignation Letter covers: Make sure to conclude your resignation letter here by thank you once again and be careful not to add any bad comments for the company you worked with. Never use any abusive words if you were not happy while working there because it can spoil your impression as well as career.
Close your Resignation Letter: Respectfully yours, (You can also use word courteously as well)
Signature: Handwritten Signature if you are writing your own self and typed Signature in case it is in typed form, plus you can add picture of your handwritten signature. However, prefer to submit typed resignation letter instead of handwritten in this modern era.