J. R. D. Tata Founder of Air India International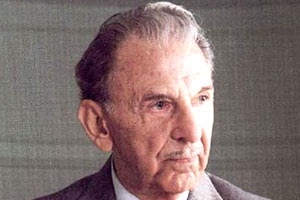 Biography of J.R.D. Tata
Early Life
J.R.D. Tata founder of Air India International, was born in Paris on 29th of July 1904. His full name was Jehangir Ratanji Dadabhoy Tata. He belonged to very rich Tata family, the pioneer of industries in India. His mother was French and father was Parsi. As far as education is concerned, he got education from different countries of the world, like, France, London, Japan and India. While living in France, there was a law that every citizen should join French Army, so he was compelled to join French Army.
He wanted to continue his services in Army but fortune didn't favor him and he left Army.
Interest in Flying
In 1925, he joined Tata and Sons as an internee. But he has great curiosity in hovering. That led him to give aviation exam. On 10th February, 1929, he became the first Indian to clear aviator's examination. In that way he became first Indian pilot. He was interested in establishing Airline Company in India. His passion was rewarded with the establishment of Tata Aviation Service in 1932.
Entry in Tata & Sons
At the age of 34 years in 1938, he was chosen as the chairman of Tata and Sons, which belonged to his family and was the biggest industrial group of India. Tata and Sons was a corporation with so many enterprises, which came under his leadership. So this was the first step for establishment of Air India.
Founder of Air India
He was founder of Air India International, India's first profitable airline on commercial basis in 1932. It was named as Tata Airlines initially. But after many years in 1946 renamed as Air India and became India's national airline.In 1953, government of India selected him as the Chairman of Air India Company. He also remained the director of the Board of Indian Airlines. He was on that position for twenty five years. He with the cooperation of his friend Nevill Vintcent made Tata Airlines.
Later Career
Apart from Tata Airlines, he was the pioneer of so many other enterprises related to the name Tata throughout the India. In 1968 he formed Tata Consultancy Services. In 1987 he founded Titan industries. He was also awarded with many honorary degrees and posts as well in his later carrier.
Death
Mr. JRD Tata at the age of 89 because of Kidney Infection died on 29th of November, 1993.  He is buried in a graveyard of Paris, "Pere Lachaise Cemetery". When he died, in his honor the Indian Parliament was adjourned for the day. This usually happens for Parliament member. But he was not a parliament member, so he was such an honorable personality to be given that honor.
Achievements
First pilot, chairman of Tata & Sons, pioneer of Air India, and Bharat Ratna award in 1992 are some of the big achievements of this person.