Kagemasa Kozuki Founder of Konami Corporation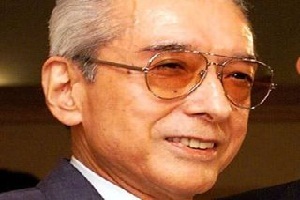 Biography of Kagemasa Kozuki
Early Life
Kagemasa Kozuki founder of Konami Corporation was born on 12th November, 1940 in Japan. He got his early education from the local schools of his hometown. He went for his higher studies in Kansai University. He got his graduation in the month of March in 1966. He pursued a Bachelor in the field of Economics.
Founder of Konami Corporation
After graduation he didn't wasted much of his time and money. He invested his interest and skills in the formation of his own business. He founded a company with the name of Konami when he was just 28 years of age. He founded that company in the city of Japan named Osaka in 1969. That company was a jukebox rental and also jukebox repairing company. He became its Chairman.
He again modified the company on 19th March, 1973. He named his business as Konami Industry Co., Ltd. He changed the work of the company, previously it was just a jukebox repairing company, and this time he started working for the entertainment purposes of people. He turned to the manufacturing of amusement machines especially for arcades. But that was also till the year 1978. And after that he entered into the business of manufacturing and publishing of games. He used to export his products to different areas of the United States, those products include various arcade games, and some of them were gone much hit and popular. Some of them were like Frogger, Super Cobra, and Scramble. Many of those games were under the license of other games publishing companies for releasing them outside the boundaries of his own country like Gremlin Industries and Stern Electronics.
Konami Corporation
Konami Corporation is a multinational company of Japan in the field of gaming technology and amusement material. It is a manufacturer and releaser of a number of toys, animated series of films, slot machines, video games, trading cards, a special type of tokusatsu, and arcade cabinets. It is not all, this company also runs physical fitness clubs throughout the whole Japan.
At the time of its formation the base area for its operations was located in Toyonaka, Osaka, Japan. But after its success and expansion, it's headquarter was moved to different area of Japan which is its capital Tokyo.
In the United States, it operates and manages its customers of that country from an office located in El Segundo, California and another office for managing casino games in Paradise, Nevada. And just like this country, the company has its offices in all the countries in which its products are famous and selling. In Australia, it is located in Sydney, Australia.
Its name is taken from the name of its owner and founder and two other persons. Kagemasa Kozuki, Yoshinobu Nakama, and Tatsuo Miyasako were those three persons. The name Konami is derived from the initials of these names.
Konami was ranked in 2005 on the sixth slot in terms of gaming companies of Japan. First five companies were as Nintendo at number first, Square Enix at the second number, Capcom was the third one, forth was Sega Sammy Holdings, and following this was Namco Bandai.
Chronology of His Posts in the Company 
In March 1973, the company was properly established. In 1987 he became its Representative Director, while keeping his chairmanship. In 1994, keeping these two seats constant, he also jumped to its presidency. But in 2012 he left presidency and keep two other designations until now.
In 2008, he was keeping the net worth of 790 million dollars which made him the 34th richest man in the country of Japan.