Keith Rupert Murdoch Founder of News Corporation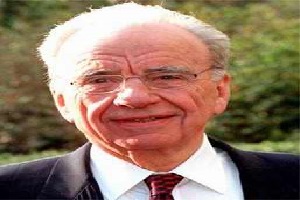 Biography of Keith Rupert Murdoch
Early Life
Keith Rupert Murdoch founder of News Corporation was born in Melbourne, Australia on 11th March 1931. His parents were from different countries. His father was Sir Keith Murdoch was an English person. His mother named Elisabeth Joy Greene who was a daughter of Rupert Greene. Both of them were born in Melbourne. He got his education from a university of Melbourne named MA Oxford University.
Interest in Journalism
He was engaged in the field of journalism and newspaper since from the beginning of his career. First of all he was a war correspondent and after that he became the king of regional newspapers by owning two of the local newspapers, one was published from Adelaide, South Australia and second one was also the publishing of same area. He was also the owner of a radio station which was aired in a distant mining town of South Australia.
Founder of News Corporation
Rupert Murdoch's father named Sir Keith Murdoch founded a company in 1923 with the name of News Limited. That was a newspaper company which was made after his father took control of a newspaper of Adelaide, Australia named The Herald and Weekly Times and renamed it to News Limited. That company remained under the control of his father until death and in 1949 his father took the control of another newspaper named The Adelaide News and combined it with the News Limited. After the death of his father in 1952, he took over the news company of his father, News Limited. He then was the managing authority of the company and he acquired some more newspaper under his leadership in which The News newspaper of Adelaide was the important one. After combining many newspapers into the company he became the owner of an entire empire of newspaper which was known as the News Corporation. While his father's company News Limited only became its subsidiary which was being operated in Australia only and recognized as the Australian brand of News Corporation. It's being operated from Surrey Hills in Sydney. While its mother company is being operated in the United States also that makes the company as the company of two nations.
News Corporation
News Corporation is a multinational company which belonged to two countries, Australia and America in the field of mass media and newspapers. It's headquarter is located in the New York City of the United States.
As far as ranking is concerned it is ranked as the number second largest company of the world in terms of revenue which it earned in the year of 2011. In the field of entertainment it has filled the third slot in terms of providing entertainment all over the world in 2009.
Initially it was located in the Adelaide, South Australia but as the majority of the shareholders wanted it to move to the United States so it was restructured and reincorporated under a law that was Delaware General Corporation Law. Under that law it was moved to the United States on 12th November 2004. Its new headquarters was shifted to 1211 Avenue of the Americas, New York. It was also changed again to the corridor of the Rockefeller Center Complex.
Apart from newspapers some of the entertainment companies also belonged to the News Corp. These entertainment companies included Fox Entertainment Group, Fox Broadcasting Company, 21st Century Fox and 20th Century Fox, all of these entertainment units belonged to the company of News Corp.
Present Life
At present time he is working in his company News Corporation as its CEO. In his life he married twice and his second marriage was in 2011.