King Camp Gillette Founder of Gillette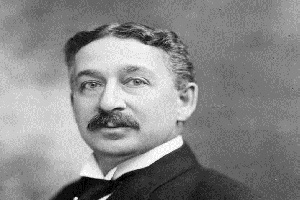 Biography of King Camp Gillette
Early Life
King Camp Gillette founder of Gillette Brand was born on 5th January, 1855 in Fond du Lac, Wisconsin. He grew in Chicago, Illinois. In 1871 family was overwhelmed by the Great Chicago Fire. His ancestors belonged to England, who migrated to Massachusetts in 1630.
Idea for creating Razor Blades
In 1980s he worked as a salesman for a company named Crown Cork and Seal Company. While working as a salesman he saw that bottle caps, which he used to sell, just thrown away once the bottle was opened. He used his mind to use that useless thing which was just discarded after opening. At that time men used to shave with straight razors that required sharpening after every use and were costly also. The idea of making such type of razor which didn't need any sort of sharpening after one use and that could e thrown away when the blade turned dull was a very good idea. That idea certainly was going to make him and his business profitable.
Safety razor was introduced earlier in the mid of 19th century by the Kampfe Brothers. But he the design of those earlier made safety razors and introduced very economical safety razors into the market which ultimately made him more profitable.
Founder of Gillette Safety Razor Company
He formulated the idea of making such type of safety razor but the most difficult phase of producing these razors was the formation of very thin and fine blade. He drew some designs for the blade and with the help of some machinists he ultimately produced desired type of product. He named it with his own name Gillette.
Now the problem was the selling of that product. For this purpose he firstly introduced a company with the name American Safety Razor Company on 28th September, 1901. This company was later on renamed to Gillette Safety Razor Company in the month of July of 1902 because of the product name. Gillette was the trade name for his safety razors. In a year or two he sold 168 blades comprising of 51 razors.
Gillette
Gillette is not a company but it is a brand name for the safety razor for men's usage. Initially this product was introduced by King Gillette and for selling this product he also opened up a company with the same name of Gillette Safety Razors Company. This product lies in the category of personal care products. But after so many years of successful selling process that Gillette Safety Razors Company was merged with Procter and Gamble in 2005. Now this product is owned by Procter and Gamble. That is based in Boston, Massachusetts, the United States of America.
Personal Life
Personally he was a socialist. He wrote many books in support of socialism. Apart from socialism he was also known for his innovative ideas of advertising. He used his own face on the wrappers of his product for advertizing. He is the only person to do so.
Death
He died on 9th July, 1932 in Los Angeles, California. At the time of death he was almost a bankrupt. He was going to be a bankrupt because of the larger amount of money which he spent on the construction of property and also because of the Great Depression; he lost the value of his corporate shares.
He was also famous for purchasing property. He purchased a large ranch before his death in 1926 in the Santa Monica Mountains in Southern California which was named as King Gillette Ranch Mansion. That mansion was also used in a reality show of NBC in 2012.