Linus Torvalds Founder of Linux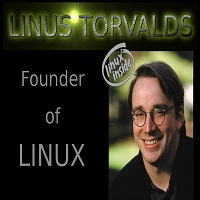 Biography of Linus Torvalds
Linus Torvalds founder of Linux was born  on 28 December, 1969 in Helsinki, Finland. It is the capital and prime city of Finland. This Finnish software engineer is 46 years old and is now American Neutralized. He is world's most famous computer programmer .He is renowned as a Principle developer of Linux Kernel which is the Kernal of Operating systems, such as, GNU, Android and Chrome. He is also known for creating GIT, which is a distributed revision control system. He is recipient of Millennium Technology Prize 2012 from Technology Academy Finland for the recognition of his services of creating Linux Kernal based open source computer system for computers. He is also winner of Computer Pioneer Award of IEEE Computer Society. He has won more than 15 world repute awards.
Early Life
He took birth in Helsinki. His mother (Anna) and father (Nils Torvalds) both were famous journalists. And his grandparents Leo Tornqvist and Ole Torvalds were statistician and poet, respectively. Torvalds was named after the Nobel Prize winner in Chemistry Linus Pauling (America Scientist). His parents were campus reformer in Helsinki University in 1960.
Education
He completed his master in computer science from university of Helsinki as his parents were also there. But when he joined the university his has full expertise in programming language. After studying for 11 months took a break from the studies and joined Finnish Army Uusimaa as a second Lieutenant. During his service he bought a book with title "Operating system: Design and Implementation" written by Andrew Tanenbaum. This book increases his interest in programming and he started his studies for another time. He wrote his thesis on Linux: a manageable operating system.
Personal life
His spouse name is Tove Torvalds and has three children. His wife was 6 time National Finnish Karate Champion a great lady. He is very modest and down to earth person. He lives in a 6,000 square foot home and the color of the house is Yellow. He has following pets in the house that are a cat, a dog, a snake, a goldfish and a bunny. He is nature lover.
Career
From February 1997 till June 2003 he worked in a company of California.
After that he relocated to open source development laboratories.
He helped to select standard binary for UNIX and Linux from 1997 to 1999.
In 1999 he was named among the top most 100 inventors by MIT technology.
Believes/views
He says that "open source" is the best method for development of software. He also says that he always prefer to use the tool that is best for the development.
Profiles
He was awarded as a 2014 beneficiary of the IEEE Computer Society's Computer Pioneer Award by Institute of Electrical and Electronics Engineers on April 23, 2014.
He is honored with the Vollum award from Red College in 2005.
In 2002, he is honored with the World Technology Award from World Technology Network.
He received award from the British Computer Society in 2000 named Lovelace Medal.
Linux
It is an operating system developed by Linus Torvalds in 1991 that is 24 years ago. After that many version of Linux has been released with some modifications and with better functionalities. Linux 0.02 version still needed Minix to operate. Torvalds keep on improving the Linux at in 0.11 versions he was able to produce a standalone UNIX like Linux. After that many version were released making it better and better. The next major release was V2.4 in January 2001, which was compatible with the upcoming generations of Intel's 64-bit Itanium computer processors.
Present
At present Linus Torvalds founder of Linux fully focusing on making the Linux better and better for this he is working on Linux Kernel level. And he is working on this project in Open Source Development laboratories. Now he is living in Dunthorpe Oregon, United States.