Masaya Nakamura Founder of Namco Limited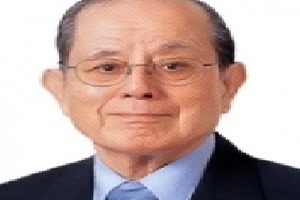 Biography of Masaya Nakamura
Early Life
Masaya Nakamura founder of Namco Limited was born in Tokyo, Japan on 24th December, 1925. He is known for two things, one was for his involvement in film industry and second thing is the foundation of a gaming company of Japan named Namco.
Achievements
He is the founder of gaming company Namco. He is also the owner of a film studio named Nikkatsu. He was given the award of the Order of the Rising Sun by Japanese government. He was also introduced to the hall of fame of gaming industry.
Founder of Namco Limited
He founded the company in 1955 with the name of Nakamura Manufacturing. At that time it was based in Tokyo, Japan. Initially it was opened into a department store of Japan, named Yokohama. In that store his small company was providing amusement to the kids who came there. He started children's rides which ran from the roof of that department store. He was manufacturing amusement type of things. Eventually his business expanded and sneaked out from that department store and spread in different areas of Japan's Tokyo city. His company became a recognized company of Japan after its expansion in 1958. He also changed the name of the company from Nakamura Manufacturing Company to Nakamura Amusement machine Manufacturing Company. Later on due to its large name it was cut short and made a brand name as NAMCO. That name was taken from the initials of its larger name.
That company manufactured a gaming machine that run through a coin, it was a mechanical driving simulator machine which can be operated through putting coin. That was named as Racer.
Namco Limited
Namco Limited is the multinational company of Japan in the field of gaming and amusement products. It is best known for the production and publication of video games. It's headquarter is based in Ota, Tokyo, Japan.
In 2005, this company went through a merger with another company of game production named Bandai. This merger was done in the month of September in 2005. After that merger between these two companies, a new company was formed which comprised of both the assets from two companies. That new company was named as Namco Bandai Games, formed on 31st March, 2006. But Namco Company tried to maintain its own name which was previously held by the company, so it went on to the process of re-construction and re-establishment. This reconstruction was for continuing its operations of producing video games and amusement parks on domestic levels. In English its name is usually written in capital alphabets as NAMCO.
The most famous game of the company was Pac-Man that was also the front business profits earner and most selling game of the company. Its icon also became popular on international levels. Namco was becoming famous game producer in the Golden age of arcade video games. That era was the flourishing era of arcade games and amusement parks.
Namco has become the third largest video game developer and publisher in Japan.
After Namco
After the success of gaming company Namco, he tried another field of entertainment. He went on to purchase a film studio, named Nikkatsu. He purchased that film studio in 1993. After buying that studio he also entered in the production house of movies. He became an executive producer. As executive producer, he worked in a number of movies of that studio.
He was included in the International Video Game Hall of Fame on 5th August, 2010. He was included in that hall of fame in a program that was held in Ottumwa, Iowa from 5th to 8th August in 2010 that was The Big Bang Gaming Extravaganza.  His famous game Pac-Man was also presented in that festival. And that game was also installed and honored on his 30th birthday which he was celebrating in a party.
He is still working in that company and aged above 88 years.