Terry Gou Founder of Foxconn Technology Group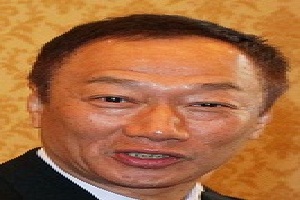 Biography of Terry Gou
Terry Gou was basically a businessman who is very intelligent and hard working. And due to his hard work and intelligence he founded Foxconn and bring that company to the peak of fame.
Early Life
Terry Gou founder of Foxconn Technology Group was born in Bangiao Township, Taipei County on 8thOctober, 1950. His real name was Gou Tai- Ming but he was commonly known as Terry Gou.
His family and parents used to live in Shanxi Province of China. His family moved to Taiwan in 1949. He was born after their migration. His father was a policeman before their migration to Taiwan. He was the first child to be born in his family. He also had two younger brothers who also became successful businessmen in their lives. Due to the reason that he was first child of the family, he was cared a lot. He got his early education at the local elementary school and college.
Early Working Career
Soon after the completion of his studies, he started his working life. In his that life he worked on many places. His first working place was a rubber factory. After that he worked at a grinding wheel. Following that job, he went on to work at a medicine plant. While working at those different places he reached at 24th year of his life. And in those 24 years of life he has gained much experience about the working of the business and how the organizations are working in order to achieve the milestones.
Founder of Faxconn Technology Group
He founded his company in 1974 in his home country Taiwan. He named that company Hon Hai which was later on called as Faxconn Technology Group. He initially started that company with the capital investment of $7500 and with ten persons working with him. In startup he was just engaged in manufacturing of plastic parts of TVs. He operated that business earlier in a rental shed located in Tucheng, Taipei.
The turning point for his company was an order from a larger gaming company named Atari. In 1980, his company got an order from that gaming company for manufacturing connectors of the console joystick.
After that order he further expanded his business by working hard and going across the boundaries of the country in search of customers in foreign countries. He went on a trip comprised of 11 months' time period to the United State for the marketing of his business in 1980s. He became a very aggressive salesman and started selling his products very efficiently; his aggressive nature earned him a lot of extra orders from different companies of the United States. And the ability of selling was developed due to the work experience.
Faxconn Technology Group
Faxconn Technology Group is a multinational company of Taiwan in the field of electronics. Its real name is Hon Hai Precision Industry Co., Ltd., but trading name is Faxconn Technology. It's headquarter is located in Tucheng, New Taipei, Taiwan. As far as ranking is concerned it is standing on the first number in terms of electronic manufacturer as a contractor. It has acquired number third as a biggest information technology company in terms of revenue earning.
It supplies its products to different multinational companies of the world, mostly the companies of America, Europe, and Japan. Its products are also the part of the Blackberry, iPhone, iPad, Xbox One, Kindle and so many other devices.
Personal Life
Apart from his professional life, in his private life he married twice. His first wife was Serena Lin. He had a son and a daughter from his first wife. His son is related to entertainment industry and his daughter is included in financial industry's workers.
In 2005, his first wife died at the age of 55 years due to breast cancer and short after her death he married again with Delia Tseng, who was a choreographer. From his second wife he had a daughter and a son as well. As a whole he has four children, two sons and two daughters.
He is also having his name in the contributors of the society. He had given charity for the formation of a foundation related to education. That foundation was run by his first wife Lin.
Present Life
In present time he is on the designation of the Chairman of his company. He is considering the HR policies of his company in order to get some positive responses from his company's employees. He has also formed a special task force which carefully watches and observes the lives of company's employees. He named that task force as FOXY.
Conclusion
From the above article we concluded that no one can reach the height of fame in days and night there is years of struggle behind this fame. And it is proven by the life of terry that he worked in different organization and after gaining much experience he was able to open his own company which gains fame in short period of time.