Vernon Rudolph Founder of Krispy Kreme Doughnuts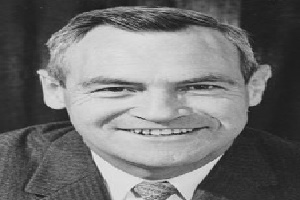 Biography of Vernon Rudolph
Early Life
Vernon Rudolph founder of Krispy Kreme Doughnuts was born on 30th June, 1915 in Marshal County, Kentucky. He was born to Plumie and Rethie Rudolph. They has two sons from which he was the older one, He got education from the local schools of his native town. After completing higher studies from there he didn't go for the persuasion any specific field graduation. On the other hand he went as a learner and helper to a general store of his uncle. His childhood passed in helping his uncle at that shop.
Personal Life
Apart from professional life his life was full of events. He married twice in his life. His first wife was Ruth Ayers who belonged to Atlanta Georgia. He married her in 1939. He had no children from Ruth but they adopted a baby girl in 1943 named Patricia. His first wife died in a car accident in 1944 at Orangeburg, South Carolina. He married again after two years of his first wife's death in 1946. That time he married to Lorraine Flynt who belonged to Winston-Salem, NC. From his second wife he had four children.
Start of Career
He started his career in the field of shop keeping. As mentioned earlier that after completing his education he went to his uncle's shop for helping. That shop was in Paducah, Kentucky. His uncle bought a shop for doughnuts in 1933. His uncle also got the recipe for making doughnuts from a French guy who was a federal employee, named Joe LeBeau. But as it was the time of great depression so they moved that shop to Nashville, Tennessee for a better financial condition. But there conditions didn't favor them and they again came back to Kentucky. After coming back to Kentucky his uncle sold that shop to his father. That opened some ways of progress for him. He continued to work at that shop. His father introduced another shop in Charleston, West Virginia. After several years his father again opened another shop in Atlanta, Georgia.
Founder of Krispy Kreme Doughnuts, Inc.
He gained so much experience from those shops and was ready and determined for the opening of his own shop. He moved back to his native place in Winston-Salem, North Carolina. He started his own business by renting a building near Salem College and Academy on 13th July, 1937. He used the original recipe for doughnuts which he learnt from his uncle. People of local grocery shops were his initial customers and after some time passing by people were also attracted towards his shop and demanding hot doughnuts. After the hard work on that shop he eventually opened franchises in 1940s by building the Krispy Kreme Corporation in 1947. He became its first Chairman and President.
Krispy Kreme Doughnuts, Inc.
Krispy Kreme Doughnuts, Inc. is a doughnut company of the United States of America. As the name indicates that the main product of this company is doughnut. Its products are sold at different places. They are sold at local grocery shops, convenience stores, passing by gas stations' shops and in some big shopping malls like Wal-Mart, Target and Shaws. These are located in the United States. Out of the United States these doughnuts are being sold in supermarkets, service stations, travelling centers and 7-Eleven stores.
Later Life
After the creation of such a successful doughnut corporation he worked there as its President and Chairman. But he didn't relaxed at all he worked hard and made his company's progress possible. He also donated the artifacts of the company to Smithsonian Institution's National Museum of American History. This donation gave him icon status.
Death
He died on 16th August in 1973.